Read time: 12 minutes
Weekly Economic Report
Weekly Chemistry and Economic Trends (January 14, 2022)
0.1%
Chemical Wholesale Inventories
MACROECONOMY & END-USE MARKETS

Running tab of macro indicators: 18 out of 20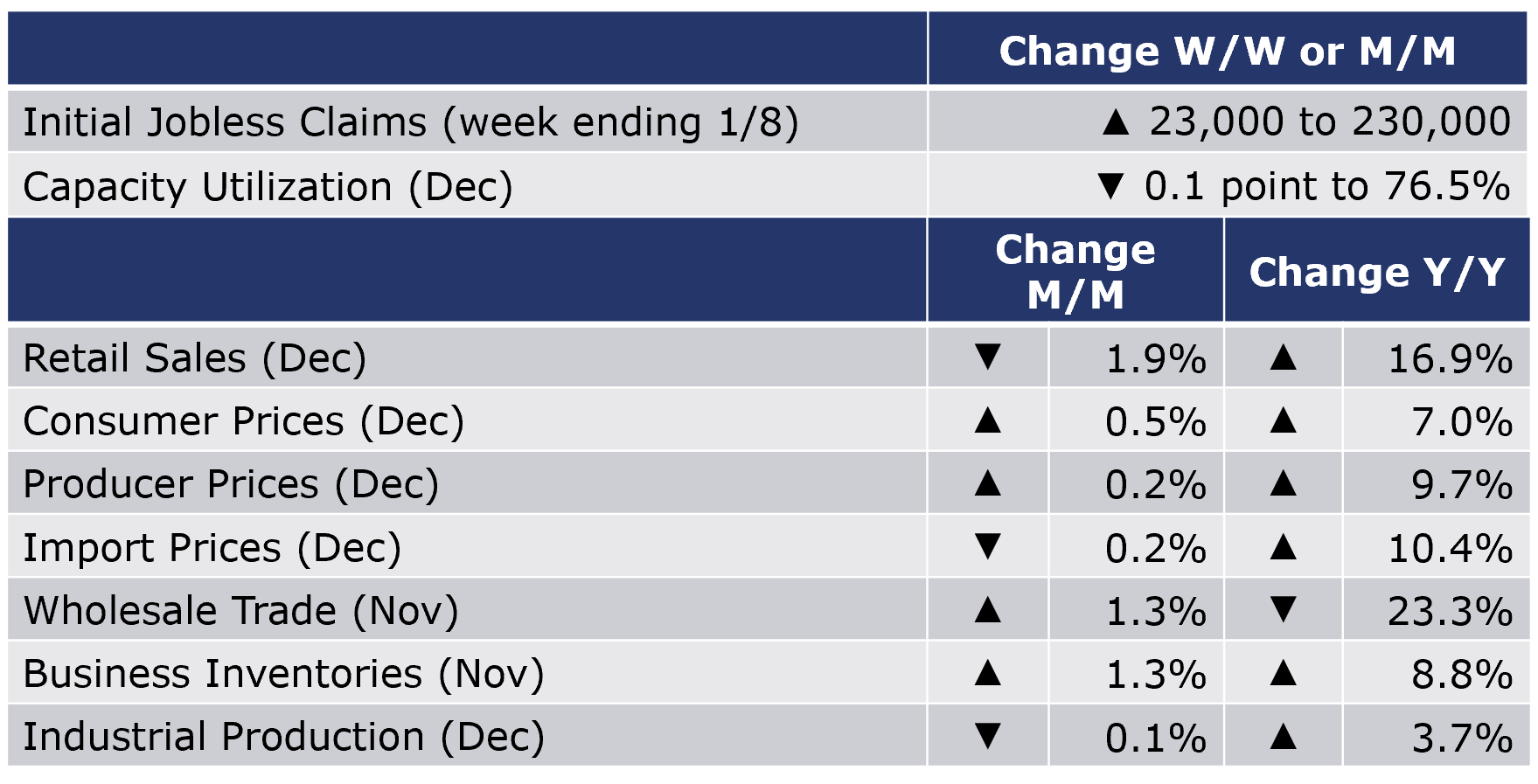 The number of new jobless claims was up by 23,000 to 230,000 during the week ending 8 January. Continuing claims decreased by 194,000 to 1.6 million, and the insured unemployment rate for the week ending 1 January was down 0.2 percentage points to 1.1%.
After several months of strong gains, retail sales fell (by 1.9%) in the final month of 2021. Among major categories, the largest month over month declines were in nonstore retailers, department stores, furniture & home furnishing stores, and sporting goods, hobby, musical instrument, & book stores. There were small gains in miscellaneous store retailers and building material & garden equipment/supplies dealers. Compared to a year ago, however, overall retail sales were up 16.9%. Retailers have struggled with persistent supply chain disruptions, lack of workers, rising inflation, and the rise of the Omicron variant.
Wholesale inventories rose 1.4% by the end of November and were 15.9% higher than levels in November 2020. Wholesale sales were up 1.3% in November and were 23.3% higher than a year earlier. The inventories-to-sales ratio was 1.22 in November, unchanged from October and lower than 1.30 in November 2020.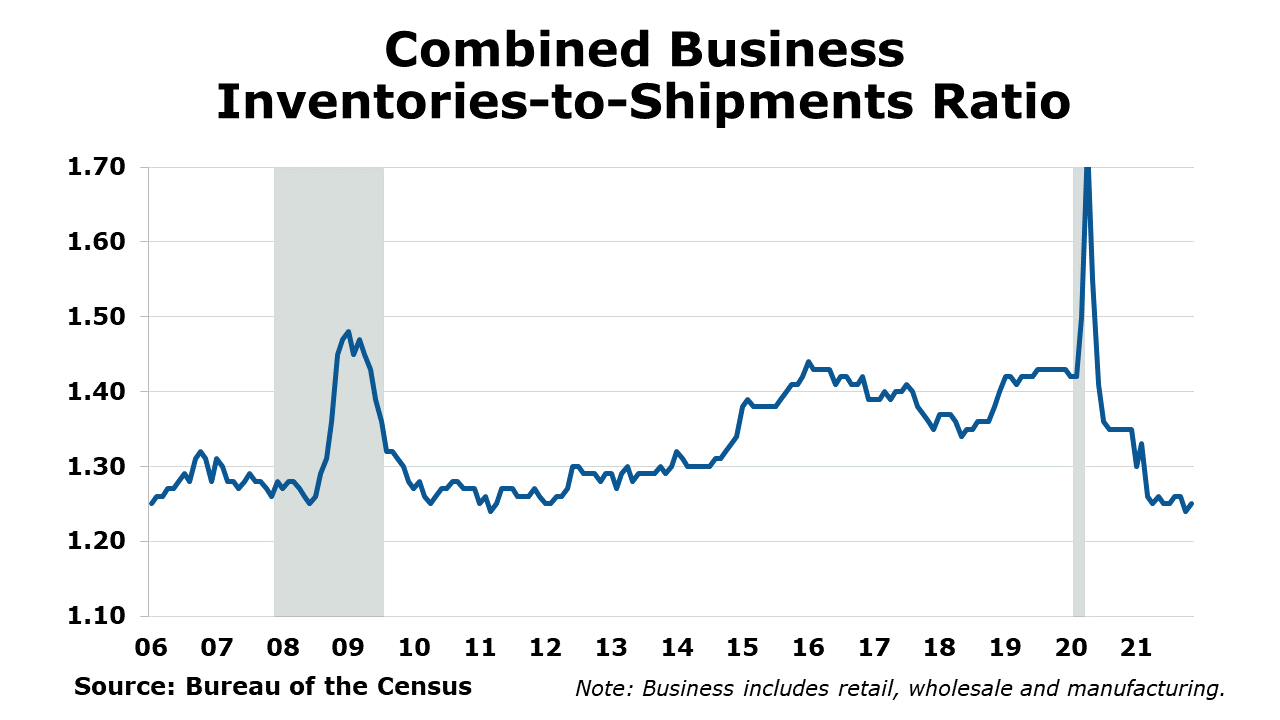 Combined business inventories rose by 1.3% in November with gains in retail, wholesale, and manufacturing inventories. Combined business sales rose by 0.5% with gains in retail and wholesale offsetting a drop in manufacturing. Compared to a year ago, business sales were up 19.9% while inventories were up 8.8% Y/Y. The inventories-to-sales ratio was slightly higher at 1.25 compared to 1.24 in October, and much lower than 1.35 last November.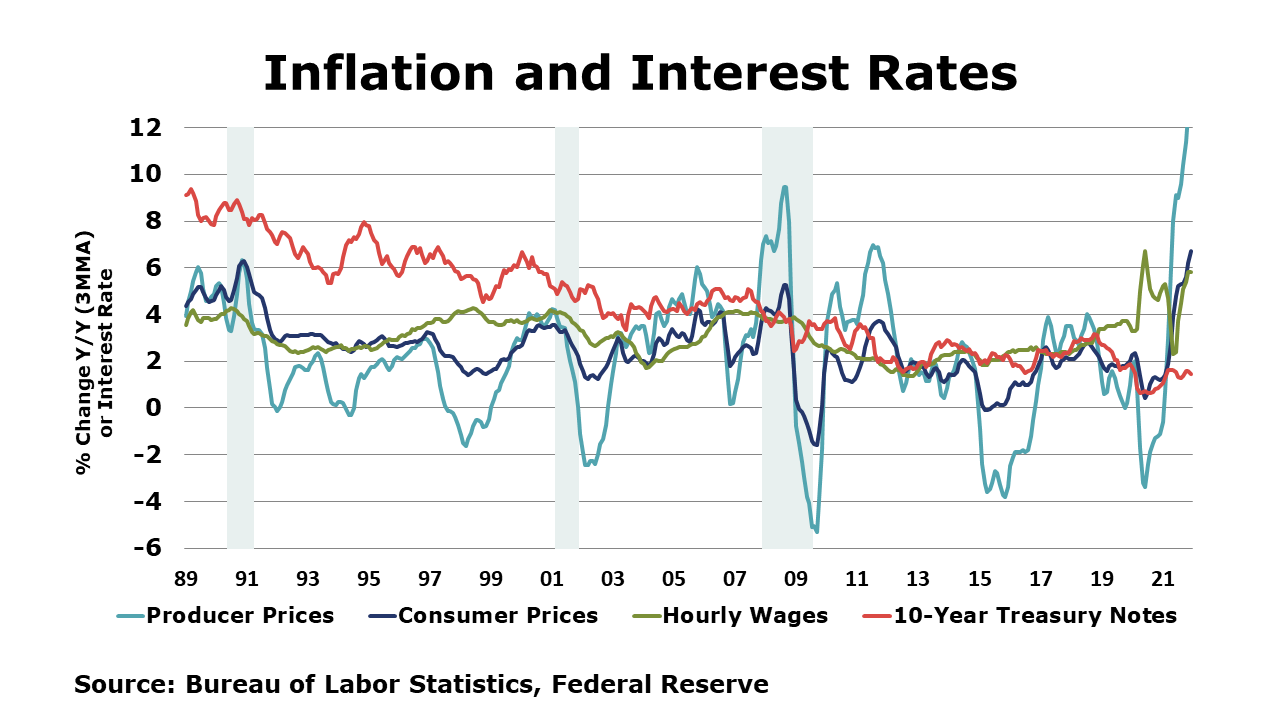 Headline consumer prices rose by 0.5% in December and were up 7.0% Y/Y, the highest since 1982. Increases were broad-based, led by airline fares (up 2.7% M/M) and used cars and trucks (up 3.5% M/M). Core consumer prices of services and goods (less food and energy) have risen 5.5% over the last 12 months. The index for all items less food and energy (core CPI) rose 0.6% in December, with broad-based increases across nearly all product categories, except for motor vehicle maintenance (-0.1%) and motor vehicle insurance (-1.5%). Producer prices continued to advance in December, up by 0.2% following November's gain of 1.0%. The largest gains were in services, up 0.5%, while final demand for goods declined by 0.4%. Excluding the volatile food and energy components, core producer prices were up by 0.4%. Compared to a year ago, headline producer prices were up 9.7% (the largest Y/Y gain since data collection started in 2010 when BLS redefined how it measures final demand) while core prices were up 6.9% Y/Y. As part of its report on small business optimism, the NFIB reported that the share of business owners reporting inflation as their biggest problem rose to its highest level since 1981.
Following solid gains in October and November, industrial production eased by 0.1% in December, missing expectations for a small gain, as ongoing supply chain headaches and lack of workers created headwinds. Mining output expanded, but utility output was lower reflecting milder weather in December. Manufacturing output declined by 0.3%. Results were mixed within manufacturing with about half of sectors seeing declines that were offset by gains in machinery, computers & electronics, wood products, nonmetallic mineral products, furniture, food & beverage, and chemicals. Compared to a year ago, industrial production was up 3.7% Y/Y. Capacity utilization also edged lower to 76.5% which was above year ago rates (74.1% in December 2020). Overall industrial capacity was higher by 0.4% Y/Y.
U.S. import prices declined by 0.2% in December following a 0.7% increase in November. The year-end decline largely reflects lower fuel prices. Still, U.S. import prices rose a notable 10.4% over the course of 2021, the largest calendar-year rise since 2007. Export prices declined by 1.8% in December as lower prices for nonagricultural industrial supplies and materials and nonagricultural food more than offset higher prices for capital goods and consumer goods. Prices for nonagricultural exports advanced 13.8% over 2021.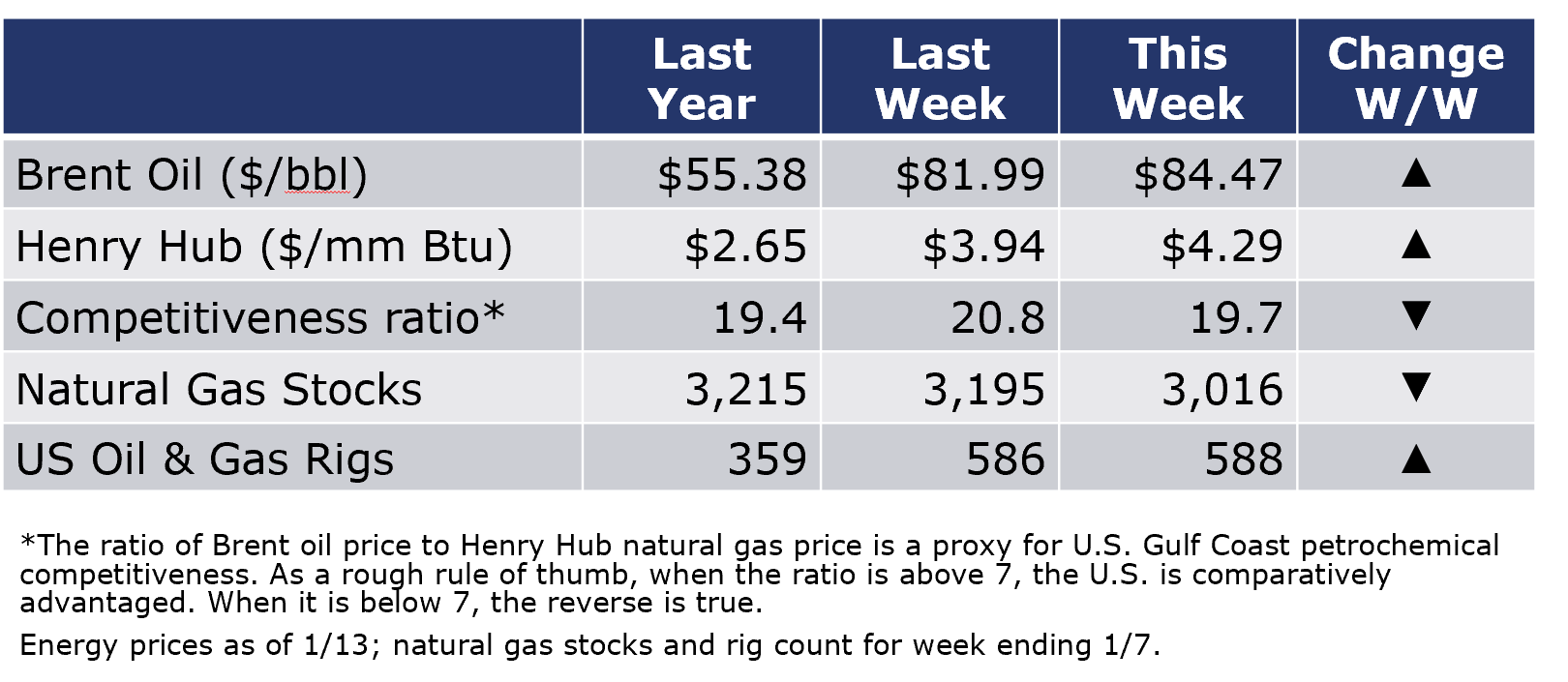 The combined oil and gas rig count rose by two to 588 during the week ending 7 January. U.S. commercial oil inventories fell to their lowest level since 2018 and oil prices were up during the week as markets shrugged off concerns about Omicron and releases from the SPR. The DOE announced that it had sold 18 million barrels of strategic crude oil reserves to six companies. In its recent Short-Term Energy Outlook, EIA projects that the global oil markets become "generally balanced" in Q1 with global production expected to outpace oil consumption in 2022 and 2023. Natural gas prices also rose this week on strong export demand and expectations for colder weather ahead.
For the business of chemistry, the indicators still bring to mind a green banner for basic and specialty chemicals.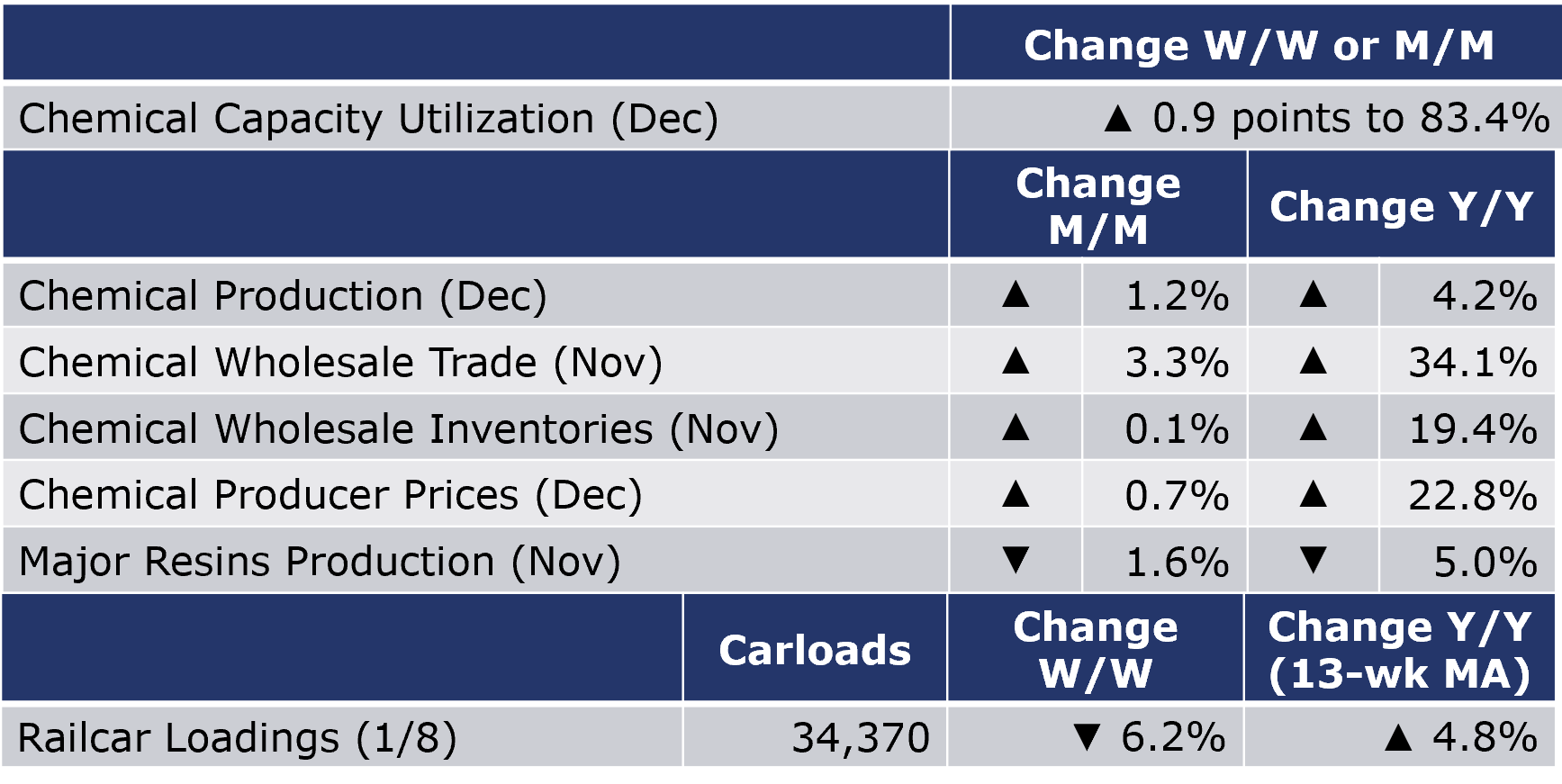 According to data released by the Association of American Railroads, chemical railcar loadings rose by 1,996 carloads to 34,370 for the week ending 8 January. Loadings were up 4.8% Y/Y (13-week MA), down 5.1% YTD/YTD and have been on the rise for 6 of the last 13 weeks.
According to data from the ACC Plastics Industry Producers' Statistics Group, U.S. production of major plastic resins totaled 7.6 billion pounds during November 2021, down 1.6% compared to the prior month, and down 5.0% Y/Y. Year-to-date production was 83.1 billion pounds, up 0.1% Y/Y. For the same period, sales and captive (internal) use of major plastic resins was 7.5 billion pounds up 1.1% compared to the prior month, and up 1.4% Y/Y. Year-to-date sales and captive use were 81.7 billion pounds, down 2.0% Y/Y.
Wholesale chemical inventories rose 0.1% by the end of November to $13.6 billion, a level up 19.4% Y/Y. Wholesale sales were up 3.3% in November to $12.7 billion, a level 34.1% higher than a year before. The inventories-to-sales ratio decreased to 1.07 in November from 1.11 in October and was down from to 1.21 a year earlier. This was the lowest since 2014.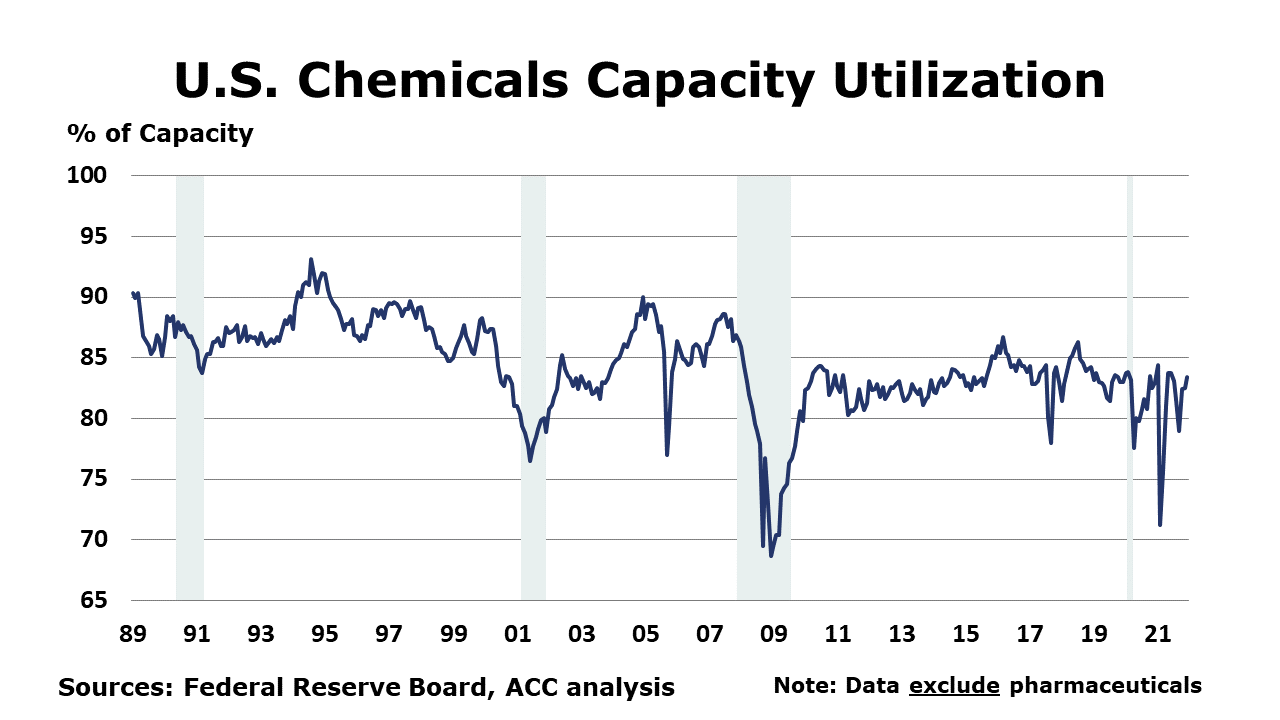 Chemical production rose 1.2% in December following gains of 1.2% in November and 4.4% in October. Production in December was at its highest level since late 2018, before trade tensions and Covid disrupted demand. There were gains across most segments, except dyes & pigments, industrial gases, and consumer products which declined. The largest gains were in agricultural chemicals, coatings, synthetic rubber, manufactured fibers, and plastic resins. Compared to last December, production was up by 4.2% Y/Y. For the year as a whole, the preliminary data suggest that chemical output expanded by 2.1% in 2021. Chemical capacity utilization tightened, up 0.9 points to 83.4%. As chemicals continue to be a good leading indicator for the broader economy, this bodes well for prospects going into 2022.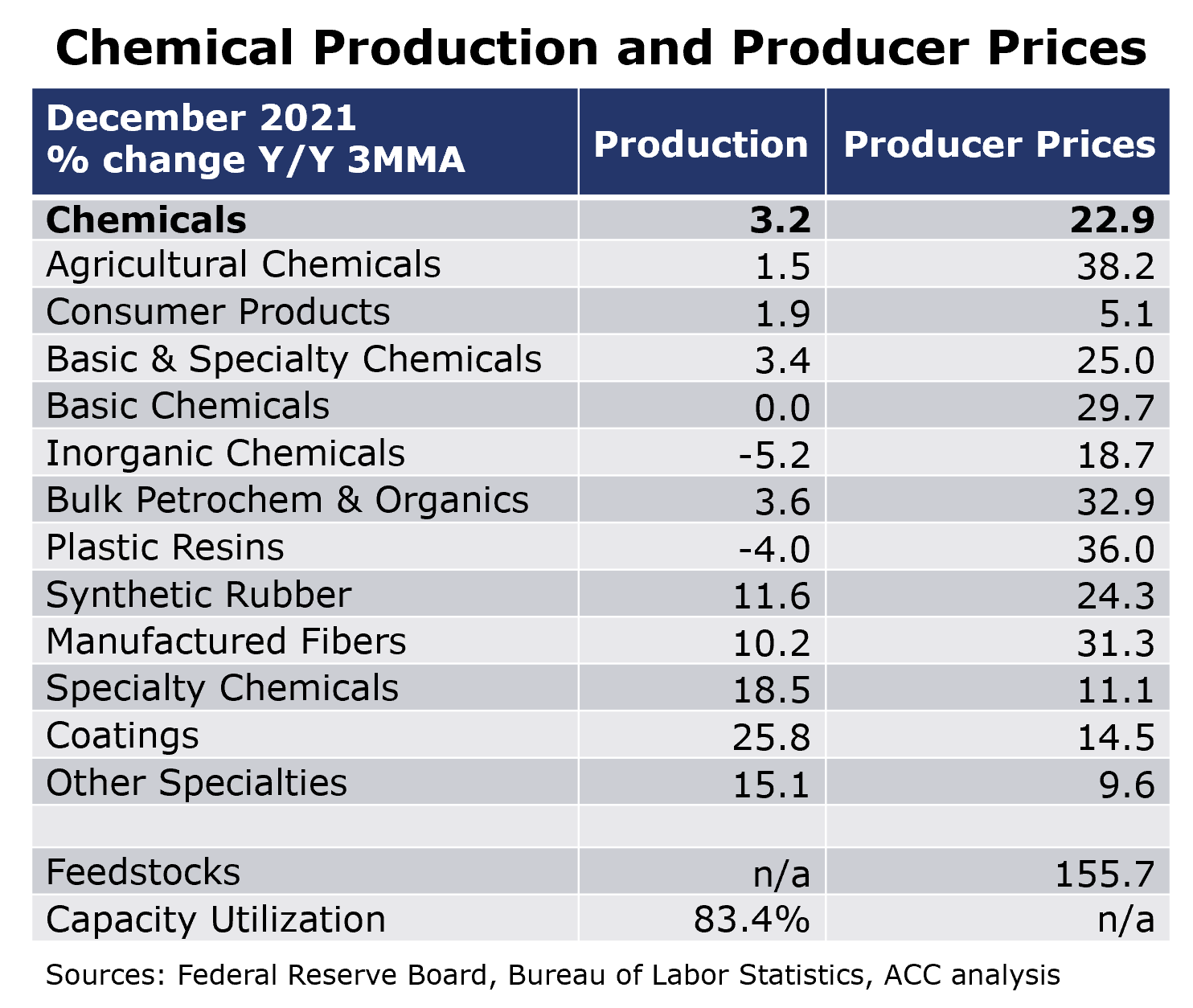 Chemical producer prices continued to increase for an 19th consecutive month in December, up by 0.7%. There were sequential gains across nearly all segments except plastic resins, synthetic rubber, and man-made fibers. The largest gains were in agricultural chemicals and inorganic chemicals. Compared to last December, chemical producer prices were up 22.8% Y/Y. Chemical import prices rose for a nineteenth consecutive month in December, up by 1.2%. Export prices rose by 0.3%, following a slight decline in November. Compared to a year ago, prices for imported chemicals were up 27.3% Y/Y while export prices were up by 21.6% Y/Y.

Note On the Color Codes
The banner colors represent observations about the current conditions in the overall economy and the business chemistry. For the overall economy we keep a running tab of 20 indicators. The banner color for the macroeconomic section is determined as follows:
Green – 13 or more positives
Yellow – between 8 and 12 positives
Red – 7 or fewer positives
For the chemical industry there are fewer indicators available. As a result we rely upon judgment whether production in the industry (defined as chemicals excluding pharmaceuticals) has increased or decreased three consecutive months.
For More Information
ACC members can access additional data, economic analyses, presentations, outlooks, and weekly economic updates through MemberExchange.
In addition to this weekly report, ACC offers numerous other economic data that cover worldwide production, trade, shipments, inventories, price indices, energy, employment, investment, R&D, EH&S, financial performance measures, macroeconomic data, plus much more. To order, visit https://store.americanchemistry.com/.
Every effort has been made in the preparation of this weekly report to provide the best available information and analysis. However, neither the American Chemistry Council, nor any of its employees, agents or other assigns makes any warranty, expressed or implied, or assumes any liability or responsibility for any use, or the results of such use, of any information or data disclosed in this material.
Contact us at ACC_EconomicsDepartment@americanchemistry.com