Polyurethane Innovation Award
The competition for the 2019 Polyurethane Innovation Award highlighted the latest innovations and technologies within the industry over the past year. Each finalist, listed below, made a 3-minute presentation at the Opening Session, after which the audience cast their vote for their favorite innovation.
CPI is proud of our industry's continued leadership in innovative solutions and advances in technology. Each year, CPI sponsors the Polyurethane Innovation Award program, which highlights the role that innovation plays in the polyurethane industry and recognizes companies and individuals whose vision and perseverance bring new products, technologies and initiatives to the marketplace.
Finalists:
Riddell SpeedFlex Precision Diamond Football Helmet Liner: Carbon and Riddell partnered to produce the first-ever, digitally printed liner for the SpeedFlex Precision Diamond football helmet. Carbon used athlete data Riddell gathered in their proprietary database of 5 million head impacts to create next-gen head protection. The resulting Diamond helmet liner is printed to be precisely contoured to the athlete's head. Using Carbon's pioneering DLS™ technology, the liner was created using light and oxygen, and incorporates intricate, custom lattice structures with custom energy absorbing materials also developed by Carbon.
Dow AQUACHILL™ Cool Coating for Comfier Bedding: AQUACHILL™: a water-based phase change material (PCM) coating, maximizes initial and sustained cooling while providing breathability, optimal durability, best-in-class adhesion and minimal odor. Unlike traditional solvent-based coatings, AQUACHILL™ maintains its cooling power beyond the initial point-of-sale without expelling a significant odor, providing additional value to the end-consumer for a good night's rest.
Paper, Poster, and Distinguished Leader Awards
The 2019 Polyurethanes Technical Conference concluded with the Best Paper and Poster Awards which recognized 12 papers and 4 posters. This year, two CPI Distinguished Leadership Awards were conferred to Juan Carlos Medina of Dow and Richard (Dick) Werner of Cannon for their leadership and advancement of CPI's goals and the interests of the industry.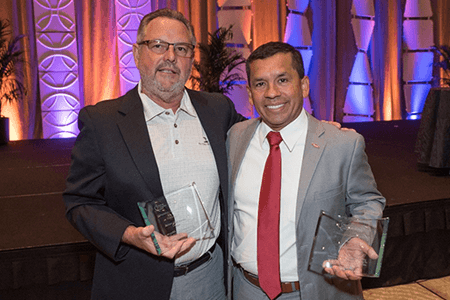 The two awards were given out at the 2019 Polyurethanes Technical Conference
2019 Paper & Poster Winners
Each year, CPI recognizes the best technical paper presentations and posters presented at our Polyurethanes Technical Conference. The list of winners is announced at the Awards Ceremony during the Closing Session of the conference. This year, CPI is proud to announce the 12 technical papers and 4 posters our judges selected as the best of their session or category.
Best Paper Winners:
Automotive I: Novel Methods on VOC Reduction, Lightweighting, and Adhesion
Tad Finnegan of BASF Corporation for: Irgastab® PUR 70: Novel Anti-Scorch Package for Polyol & PU Foams Significantly Reducing Emissions in Automotive Interior
Automotive II: Improved Methodology in Hardness/Durability Testing
Brian Neal, Covestro LLC for: Molded Flexible Foam Durability Testing Optimization
Blowing Agents: Fernand Saad of BASF Corporation for: Optimization of Appliance Foams Blown with Opteon™ 1100 & 1150 Expansion Agents
CASE: Adhesives & Elastomers: Scott Thomas of UBE America, Inc. for: New Waterborne Polyurethane Pressure Sensitive Adhesives (PUD PSAs) Synthesized with Polycarbonate Dio
CASE: Coatings: Sean Gahan of DuPont Tate & Lyle Bio Products Co., LLC for: Evaluation of 1,3-Propanediol Based Polyester and Polyether Polyols in Polyurethane Water Dispersions (PUDs) for Textile Coating Applications
Circular Economy: A Sustainability Concept: Michel Baumgartner of EUROPUR for: End of Life of Mattresses and Furniture - An Update from Europe
Environment, Health & Safety Issues: Scott Ecoff of Covestro LLC for: EPA's Toxics Release Inventory (TRI) Data Reporting Trends for Diisocyanates
Flexible Foam: Matthew Blais of Southwest Research Institute for: Comparative Room Burn Study of Furnished Rooms from England, France and the United State
Fundamentals & Modeling: Paul Gillis of Dow for: Fundamental Polyurethanes Foam Flow Simulations using Bubble Nucleation and Growth Models
Rigid Construction: Ganapathy Viswanathan of Hexion for: A Fundamental Study on Aromatic Polyether Polyols for Rigid Polyurethane Foams
Rigid Foam: Simon Toth of Dow for: Improved Thermal Insulation Performance of Rigid Polyurethane Foam Using Low Molecular Weight Silicone Additives
Spray Foam: Mayank Singh of Evonik Corporation for: Next Generation of Stabilizers for Low Density Open Cell Spray Foam Systems
Best Poster Winners:
Automotive: Shen Chen and Tao Yu of Wanhua Chemical (America) Co., Ltd. for:The Development of Innovative Low Emission PU Materials
Elastomers: Stephen Cavender of Patcham USA LLC for:Best Mercury Catalyst Replacement
Rigid Foam: Mai Hashimoto of AGC Inc. for:Properties of AMOLEA 1224yd as a Rigid Polyurethane Foam Blowing Agent
Sustainability: Jian Hong of Kansas Polymer Research Center, Pittsburg State University for:Polyurethane Foams Based on Cost Effective Soybean Oil-based Poyol