Polyurethane Innovation Award
The competition for the 2021 Polyurethane Innovation Award highlighted the latest innovations and technologies within the industry over the past three years. Each finalist, listed below, made a 4-minute presentation at the Opening Session, after which the audience cast their vote for their favorite innovation.
CPI is proud of our industry's continued leadership in innovative solutions and advances in technology. Each year, CPI sponsors the Polyurethane Innovation Award program, which highlights the role that innovation plays in the polyurethane industry and recognizes companies and individuals whose vision and perseverance bring new products, technologies and initiatives to the marketplace.
Finalists:
BASF: "The Xenith LOOP is the most comfortable and best performing non-tackle football headgear on the market based on 2019 Virginia Tech Helmet Ratings. The headgear is the industry's first ever purpose-built protective equipment made specifically for the sport. It's powered by BASF's newly developed intelligent energy absorbing foam Elastopan® 42320."
Ford: "Due to its lightweight and incredibly strong properties, graphene has been called the "miracle material" with virtually limitless potential. In November 2018, Ford Motor Company launched one of the world's first high-volume, production applications of graphene improving vehicle sustainability, noise abatement and heat performance. Already finding its way into more than 12 foam components under-hood including engine, pump and fuel rail covers across several vehicle lines, Ford plans for even further expansion in the future."
Huntsman and Pursell Agri-Tech: "Through the combination of novel chemistry and processing techniques Huntsman Polyurethanes & Pursell Agri-Tech have jointly developed a revolutionary polyurethane based controlled release fertilizer coating; - built with the RIMLINE® polyurethane system. This next-generation technology addresses the agronomic and other needs of today's growers while focusing on nutrient-use efficiency, increased yields, environmental pollution control, and manufacturing productivity to bring substantial benefits at each step of the value chain. RIMLINE® is a registered trademark of Huntsman Corporation or an affiliate thereof in one or more, but not all, countries."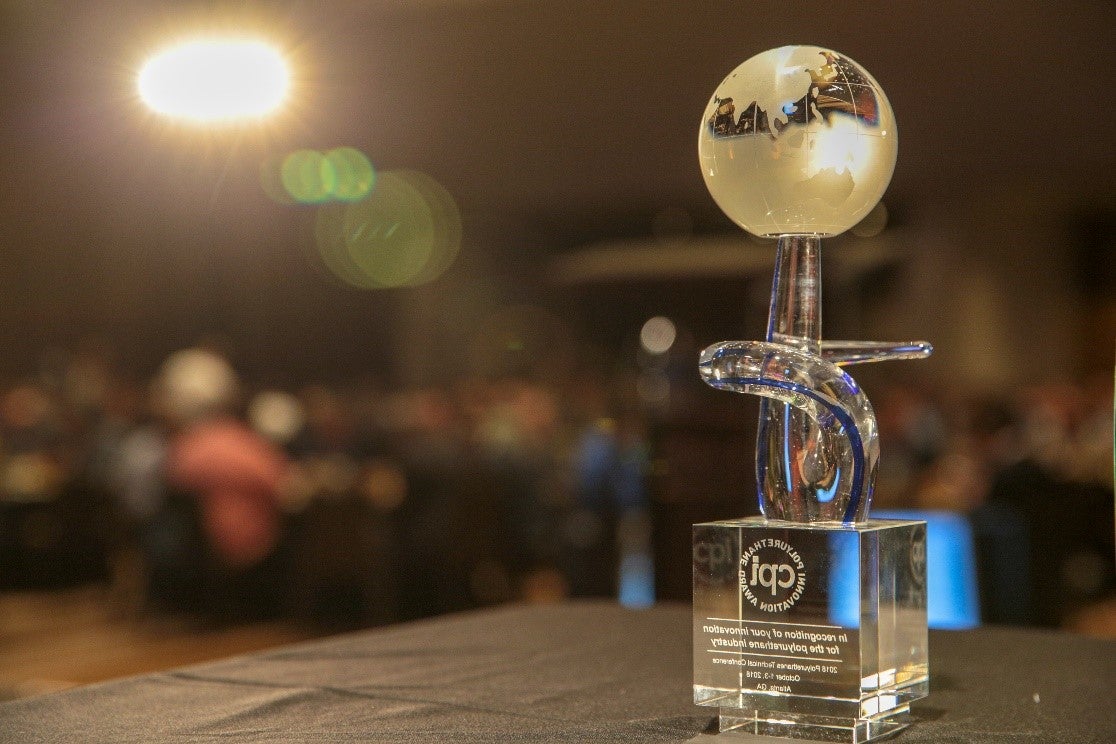 Top CPI Award Presented at Annual Polyurethanes Technical Conference in Denver, Colo.
Paper, Poster, and Distinguished Leader Awards
This year's CPI Distinguished Leadership Award was given to Dr. Hamdy Khalil, of Woodbridge Foam, for his leadership and advancement of CPI's goals and the interests of the industry.
2021 Paper & Poster Winners
Each year, CPI recognizes the best technical paper presentations and posters presented at our Polyurethanes Technical Conference. The list of winners is announced at the Awards Ceremony during the Closing Session of the conference. This year, CPI is proud to announce the 15 technical papers and 6 posters our judges selected as the best of their session or category.
Best Paper Winners:
Blowing Agents: Andrew Shinko of ICP Building Solutions Group for HFO-Blown Low Pressure Two-Component Spray Foam Insulation: A Challenging but Attainable Product
CASE: Coatings: (It's a tie!) Christian Lenges of International Flavors & Fragrances Inc. for Nuvolve Engineered Polysaccharides as Coating Components in 1K Water-based Polyurethane Dispersions and
Jingguo Shen of Evonik Corporation for Reactive Amine Catalysts for 1K Moisture-Cure Polyurethane Applications
CASE: Elastomers & Binders: Tim Banach of SABIC for New Diol for Improved Toughness in Polyurethane Materials
Chemistry & Digitalization: Keith Task of BASF Corporation for Digitalization and Predictive Modeling of Polyurethane Data via Machine Learning and Artificial Intelligence
Chemistry & Fundamentals: Ganapathy Viswanathan of Bakelite Synthetics for A Fundamental Study on the Effect of Chain Length, Functionality and Aromaticity of the Aromatic Polyetherols in Rigid Polyurethane Foams
Emission Reductions in Flexible and Rigid Foam: Matthew Meredith of Huntsman for A Novel Low-Aldehyde Catalyst for Polyurethane Foams
Environment, Health & Safety Issues: John Sebroski of Covestro LLC and Rick Wood of Wood Industrial for Status of Developing ASTM Standards to Measure Emissions from Spray Polyurethane Foam Using Micro-Scale Chambers and a Large-Scale Spray Room
Flexible Foam: Rob Borgogelli of Evonik Corporation for New Additives to Optimize the Compression Set Performance of Flexible Polyurethane Foam
Global Regulatory Roundtable: Stephen Wieroniey of the American Chemistry Council and Lisa Massaro-Kustuch of Dupont for HFC Phase-down: Avoiding a Patchwork of US Regulation and Other Global Activities
Innovations in Automotive PU: Alper Kiziltas of Ford Motor Company for The Future of the Automotive Industry is One Atom Thick; Graphene Enhanced PU Foams
Rigid Construction: Ruth Pinto of Huntsman for Use of DMA Foaming Experiments to Rapidly Optimize Formulations for Flow Demanding Rigid Foam Applications
Spray Polyurethane Foam (SPF): Jeffrey Sowder of Chemours Company for Spray Polyurethane Foam Formulation Parameters and Their Effect on Long Term Thermal Conductivity
Sustainability and End-of-Life Management for Polyurethanes: Prapti Muhuri of the American Chemistry Council for ACC Plastics Division Update on Advanced Recycling
Sustainability in Raw Materials in the Polyurethanes Industry: Christian Henry of Michigan State University for Evaluating Suitability of Twenty Technical Lignins as Partial Polyol Replacement in Rigid Polyurethane/Polyisocyanurate Foam
Best Poster Winners:
CASE: Takashi Konno, Glenn Reger and Bryan Seren of Daicel ChemTech, Inc. for Specialty PCL Triols for Thermosetting 2K-PU Plastic Coatings
Chemistry & Fundamentals: George Kwiatkowski of Gantrade Corporation and Glenn Reger of Daicel ChemTech, Inc. for The Benefits of Narrow MWD Polycaprolactone Polyols
Digitalization: Asjad Shafi and Ike Latham of Intugent for Digitalization Challenges in Polyurethane Industry
Processing: Erland Hofmann of Format Messtechnik GmbH for Foam Rise Height and Pressure Measurement in Narrow Containers
Rigid Construction: Mamoru Yamada of Daiwa Chemical Industries Co. Ltd for High-Performance Flame-Retardant for Rigid PU Foam Insulation with Strong Char Formation
Sustainability: Raw Materials: John Maxwell of Palmer International for Life Cycle Assessment of Reliable and Renewable Polyol for Rigid Foam