The competition for the 2022 Polyurethane Innovation Award highlighted the latest innovations and technologies within the industry over the past three years. Each finalist, listed below, made a 4-minute presentation at the Opening Session, after which the audience cast their vote for their favorite innovation.
CPI is proud of our industry's continued leadership in innovative solutions and advances in technology. Each year, CPI sponsors the Polyurethane Innovation Award program, which highlights the role that innovation plays in the polyurethane industry and recognizes companies and individuals whose vision and perseverance bring new products, technologies, and initiatives to the marketplace.
Finalists:
Carbon EPU 44: "EPU 44 is a 40% bio-based production-grade elastomeric 3D printing resin especially well-suited for lattices where high resiliency is needed. It has superior latticing performance, prints faster, uses less material, and has higher green strength which protects delicate designs. EPU 44 proves it's possible to have highly-sustainable materials without sacrificing performance."
DuPont Thermax™ Non-Halogen Insulation: "DuPont's new Thermax™ Brand Non-Halogen (NH) Insulation series is a best in class, safer-by-design product with exceptional performance to support the needs of architects, contractors and occupants in high performance, energy efficient buildings. With this reformulation, DuPont is the first polyisocyanurate (polyiso) wall insulation manufacturer to offer Class A products without the halogenated flame retardants commonly used in building insulation polyurethane foams while meeting the stringent wall building code requirement."
The Chemours Company Opteon™ 1150: "Chemours commercialized Opteon™ 1150 – also referred to as HFO-1336mzzE, a next generation HFO foam blowing agent with a unique boiling point, superior thermal performance and remarkable stability. A solution for an industry ready for a transition to a sustainable future, meeting and exceeding regulatory standards."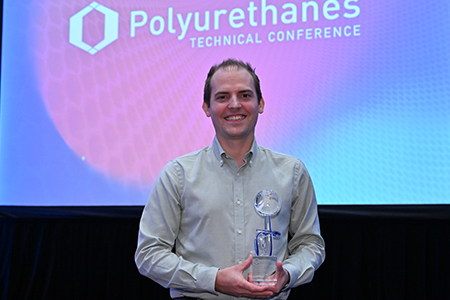 Top CPI Award Presented at Polyurethanes Technical Conference in National Harbor, Md.
Paper, Poster, and Distinguished Leader Awards
This year's CPI Distinguished Leadership Awards were given to Nigel Barksby of Covestro and Mary Bogdan of Honeywell for their leadership and advancement of CPI's goals and the interests of the industry.
2022 Paper & Poster Winners
Each year, CPI recognizes the best technical paper presentations and posters presented at our Polyurethanes Technical Conference. The list of winners is announced at the Awards Ceremony during the Awards Luncheon of the conference. This year, CPI is proud to announce the 13 technical papers and 6 posters our judges selected as the best of their session or category.
Best Paper Winners:
Automotive: John Olari of Huntsman for: An In Depth Look at Hardness and Density Gradients Inside Molded Foam Blocks
Blowing Agents: Edmund Yeh of Honeywell International for: Improving the Thermal Insulation of Rigid Foams Containing Solstice® Liquid Blowing Agent (LBA)
CASE: Chemistry and Fundamentals: Gabor Erdodi of Lubrizol for: Reactive Polyamide Oligomers for Elastomeric, Adhesive and Coating Applications
CASE: Products and Performance: Bharati Balijepalli of Dow for: Fast-Curing Aliphatic Polyurethane Binder for Pour-in-Place Rubber Safety Surfacing
Environment, Health & Safety: Ernest Wysong of Natural Polymers, LLC for: Development and Validation of Ultra-Pure™ Low VOC Rigid Spray Foam Systems
Flexible Foam: Daniela Hermann of Evonik Operations GmbH for: Impact of Silicone Surfactants on the Compression Set Performance of Flexible Polyurethane Foam
Global Regulatory Roundtable – It's a Tie!: Ben Gann of the American Chemistry Council for: An Update on the Legislative and Regulatory Status of Flame Retardants and Ian Choiniere of the American Chemistry Council & Lisa Massaro-Kustuch of DuPont for: HFC Phasedowns, PFAS Restrictions, and the Impact on Foam Blowing Agents
Importance of Accurate Air Emissions Reporting: Emily Weissinger of Ramboll for: Case Study Evaluating Methylene Diphenyl Diisocyanate Health Risks from a Hypothetical Facility
Rigid Construction: Ganapathy Viswanathan of Bakelite Synthetics for: Aromatic Triazine Polyol- a Novel Reactive Flame Retardant for Rigid Polyurethane Foam
Sustainability: Allison Chertack of the American Chemistry Council for: Leather Versus Faux Leather Boots: A Comparative LCA
Sustainability: Bio-Based Feedstocks: Matt Terwillegar of Danimer for: Scientific Avio® Polyols for Performance Polyurethanes
Sustainability: End of Life Flexible Foam: Emily Schweissinger of Evonik Operations GmbH for: Sustainable Recycling Solutions for PU Mattresses
Best Poster Winners:
CASE: Eric Cheng of Corning Inc. for: Antimicrobial Thermoplastic Polyurethane Elastomer Utilizing Copper Glass Ceramic Particles
Chemistry: Asanka I. Dissanayake of Wayne State University for: Use of N-Heterocyclic Carbene (NHC) Systems to Increase the Stability of Methylene Diphenyl Diisocyanate (4,4'-MDI)
Environment, Health & Safety: Kimberly Chapman of Morphix Technologies, Inc. for: Detection of Methylene Diphenyl Diisocyanate (MDI) with a Colorimetric Chemical Sensor Badge
Process & Methods: Erland Hofmann of Format Messtechnik GmbH for: A New Approach for Lance Test of PU and PIR Foam Formulations
Rigid Foam Application: Jaechun Lee of KPXchemical for: The Development of High-Efficiency Insulation Material for LNG Carrier Cryogenic Cargo Containment System
Sustainability & Recycling: Allison Chertack of the American Chemistry Council for: Leather Versus Faux Leather Boots: A Comparative LCA