Read time: 4 minutes
Blog Post
Celebrating Energy Awareness Month with Climate Solutions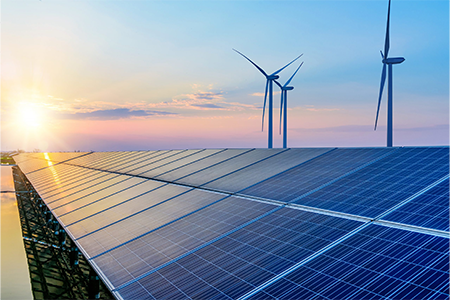 As Congress considers bipartisan infrastructure legislation along with a spending bill for President Biden's "Build Back Better" plan, American chemistry is driving innovation to help our nation achieve climate progress. Whether it's creating and providing advanced materials, participating in the development and deployment of clean manufacturing technologies, or pushing to expand society's use of proven solutions, ACC members are leading the way to lower emissions.
Earlier this week, the U.S. Department of Energy (DOE) kicked off Energy Awareness Month with a focus on the Federal Energy Management Program (FEMP), including building optimization. Many of the energy-saving solutions that will be necessary rely on innovations in chemistry -- from high-performance building insulation and vinyl windows that help reduce air leakage to reflective roof coatings and pigments that help keep roofs cooler in hot climates while reducing the urban heat-island effect. Solutions from the chemistry and plastics industries can help DOE realize the full potential of its program.
Building energy efficiency is a key took in fighting climate change: Buildings account for about 30% of all domestic energy use, but roughly 20% of that energy is lost or wasted.
Emissions reduction benefits are on the agenda for the Polyurethanes Technical Conference in Denver this week. Plastic-based products such as rigid polyurethane foam (PUR), spray polyurethane foam, and polyisocyanurate foam insulation (PIR or polyiso) are among the most efficient thermal insulating products for buildings. They work to reduce heating and cooling loss, improving the efficiency of the building envelope.
To win the fight against climate change, Americans also must dramatically improve vehicle fuel efficiency and boost the operational efficiency of renewable energy sources. Plastics are critical here: Electric vehicles rely on versatile, lightweight plastic parts to reduce weight and increase range. Solar power uses multiple plastic technologies to protect panels and transfer energy. And wind turbine blades are typically made with strong-yet-lightweight plastic composites. Congress must reject ill-advised taxes that will raise the cost of plastics and chemistry solutions used in important everyday goods.
Just this morning, the Nobel Prize in Chemistry was awarded to Benjamin List and David W.C. MacMillan for developing a new type of catalysis. As described in today's New York Times, catalysts are "substances that control and accelerate chemical reactions without becoming part of the final product." They enable society to do more with less, which helps reduce greenhouse gas emissions, among other sustainability benefits. The award reflects the innovative nature of the industry and shows how advancements in chemistry are helping to address the global challenges of today and tomorrow.
American chemistry is engaged in the climate discussion on Capitol Hill. This spring, ACC issued a set of climate policy recommendations. We're continuing to work with lawmakers of both parties to explore smart and effective ways to reduce emissions while maintaining a vibrant U.S. chemical manufacturing industry.