Sustainability Challenge:
Climate conscious companies are seeking to reduce the carbon footprint of the raw materials they use and the processes in their value chain.
Chemistry Solution:
Clariant has developed a broad range of sugar-based surfactants that perform as well as existing solutions, with lower emissions profiles.
Sustainability Benefit:
Low-carbon glucamides surfactants generally result in a smaller carbon footprint from cradle to gate by requiring fewer processing steps than existing alternatives.
Many consumers are seeking personal care and home cleaning products with milder product formulations that can also offer powerful foaming and cleaning properties.
At the same time, climate-conscious companies are working to cut emissions and to switch to green energy in their own productions, as well as monitoring the carbon footprint of raw materials and processes in their value chain.
To address some consumers desire for more natural and mild products with effective cleaning properties, Clariant's low-carbon glucamides from its GlucoTain® and GlucoPure® product lines are a broad range of sugar-based surfactants for use in personal care and home care cleaning product formulations that offer mildness and powerful foaming and cleaning in personal and home care formulations as well as enhanced emissions profiles.
Clariant's glucamides are readily biodegradable products with up to 96 percent Renewable Carbon Index, high biomass content and a good ecotox profile. The products also do not require a chronic aquatic toxicity label or irritant label according to the Globally Harmonized System of Classification and Labelling of Chemicals (GHS). Clariant's glucamides are also COSMOS-, Nordic Swan-, and Halal-certified.
Clariant undertook a cradle-to-gate carbon footprint analysis to compare its glucamide products to existing alternatives and found that its glucamides emit as much as 1 to 5 kilograms of CO2 equivalent less carbon dioxide, per kilogram of active content, than other widely used surfactant chemicals. Their lower emissions can support their customers' goals to reduce their own emissions.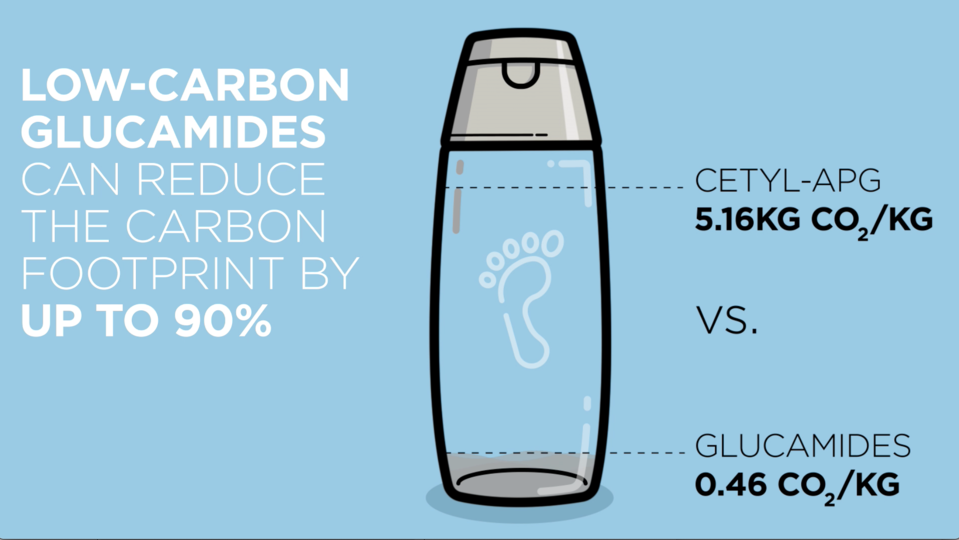 This smaller carbon footprint is attributable to the feedstocks used to develop the product and that fewer processing steps are needed in the ingredient's manufacture. By using these glucamides, Clariant's customers need fewer components such as thickeners and conditioning agents in their formulations compared other surfactants. In fact, replacing 1,000 tons traditional surfactant chemicals with GlucoTain surfactant can potentially save emissions equivalent to up to 1,000 cars driven over a year.
With these glucamides, Clariant is contributing to the United Nations Sustainable Development Goals of responsible consumption and production regarding sustainable management and efficient use of natural resources, and increasing awareness and education on climate change mitigation, adaptation and impact reduction.