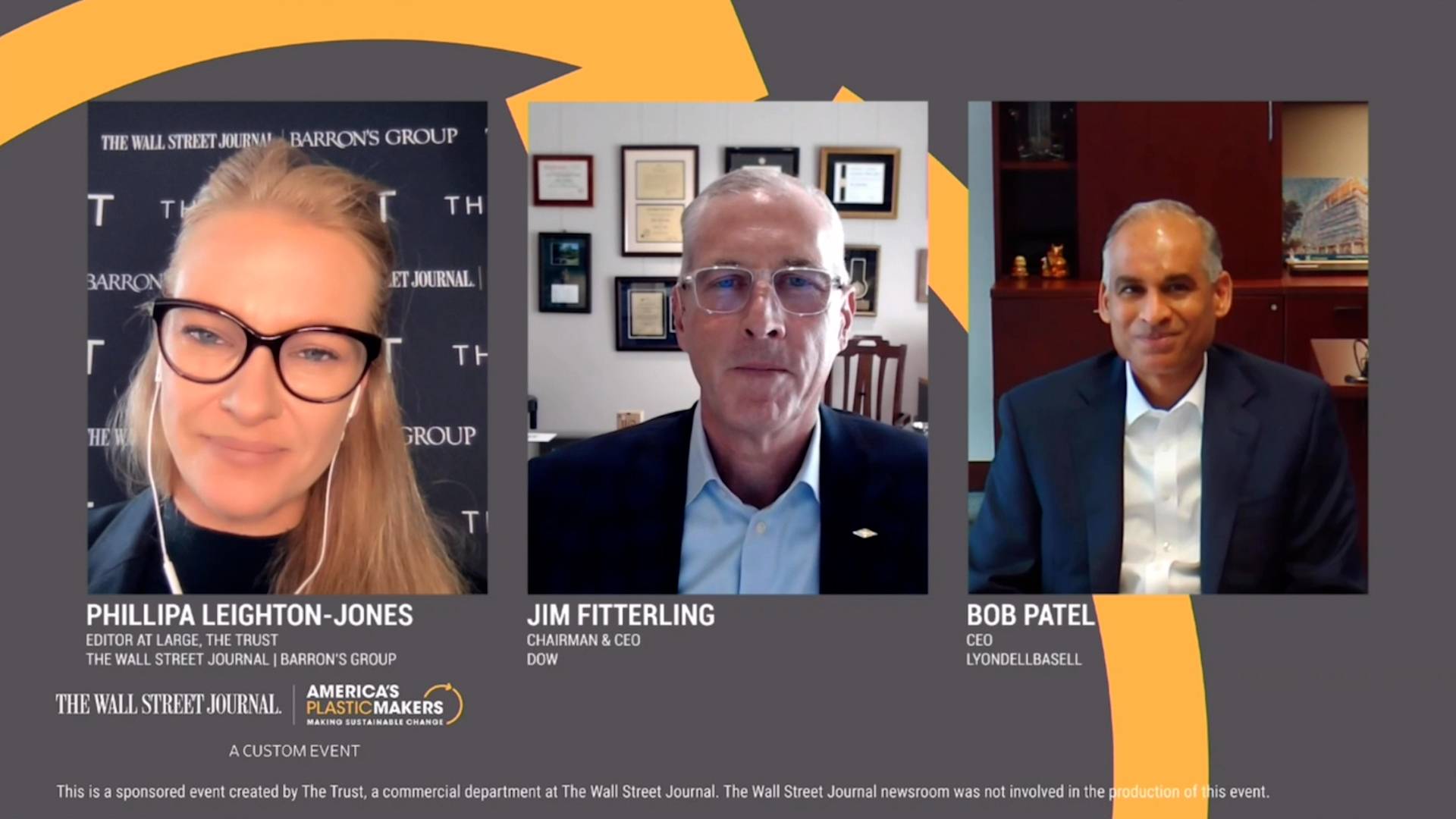 It's really gratifying to observe industry leaders who are personally committed to helping solve the problem of plastic waste globally, and Wednesday we got to hear from two of the best.
Dow Chairman and CEO Jim Fitterling and LyondellBasell CEO Bob Patel – leaders of two of the world's largest plastic makers – spoke out in a Wall Street Journal special event: "Getting There: A Global Agreement to End Plastic Waste."
They called for a global agreement among nations to eliminate plastic waste in the environment, urging the global community to support a resolution at the UN Environment Assembly in February that would begin negotiations. They noted that the UN can help elevate the issue, encourage nations to commit to ending plastic waste, set standards, share best practices, and help deliver local solutions globally. (More info on "5 Principles to End Plastic Waste Globally" here.)
But the bulk of the conversation focused ways to accelerate a shift to a circular economy, in which plastic resources are regularly reused instead of discarded.
Both leaders said that they work on the issue of plastic waste every day, that it's front and center in nearly every conversation with company stakeholders, and that circularity is now at the center of their business strategies.
Acknowledging the scope of the waste problem, Jim and Bob spoke confidently of society's collective ability to solve the problem and the unique role that plastics makers play. Our industry excels at taking good solutions and scaling them up – and that's what's happening now with solutions like advanced recycling.
Bob called advanced recycling a "game changer" that could be widely prevalent in two to four years. He also spoke about how plastics recycling could become zero-carbon when powered by renewable energy. And how a circular economy for plastics could remove the "grave" from their cradle-to-grave lifecycle.
Jim called plastics "a tool for a sustainable future," noting how lightweight plastics can help reduce carbon emissions from our cars, packaging, food, and energy sources. "It'll be hard for us to get to a low carbon future without plastics," he said, as he and many others have noted before.
Both he and Bob declared that we can enjoy the benefits of plastics – lower carbon, greater mobility, energy efficiency, lifesaving medical products, safety – but eliminate their waste by creating a circular economy through a mix of mechanical and advanced recycling and other solutions.
They dug deep into those solutions: commitments to use more recycled plastics in packaging, incentives from governments, worldwide waste infrastructure, redesign for recycling, ESG investments in advanced recycling and renewable energy, even pulling used plastics out of landfills. In the end, it all comes back to circularity, "rethinking the way we've been doing things," as Jim said.
"In my lifetime circularity will become the norm."
"In our lifetime, I think you will have plastics made from fossil fuel that have a zero-carbon footprint."
"We can solve this problem."
These are the words of just two seasoned executives who head the companies that make the materials that will help build a lower carbon future, two of the many leaders in our industry that are developing solutions to eliminate plastic waste in our environment.