Read time: 7 minutes
Blog Post
National Chemistry Week Highlights the Value of Chemistry in Our Everyday Lives
96%+
Of all manufactured goods are directly touched by the business of chemistry
It's National Chemistry Week, and ACC is proud to join the American Chemical Society, scientists and fans of chemistry to promote the value of chemistry in everyday life. Almost daily, we rely on thousands of products made possible by chemistry — from personal care products and clothing to transportation and electronics. Chemistry not only provides a range of important benefits to the products themselves, but also addresses many of the world's most critical challenges. Let's take a closer look.
Lightweight, Fuel Efficient, Safe Automobiles
Chemistry is used all over the cars we drive today, from the bumpers, exterior paint, headlights and chassis, to the seatbelts and airbags that help protect passengers inside. Plastics are at the heart of solutions that help make vehicles safer, more lightweight and more fuel efficient. Many plastic components in cars can weigh 50% less than similar components made from other materials, which is key driver in increasing fuel efficiency while reducing emissions and costs for motorists. The lightness of plastics also gives designers flexibility to create innovative design concepts in modern vehicles.
38%
Of the total construction spending by the U.S. manufacturing sector in 2021 involved the business of chemistry
Energy Efficient, Resilient Buildings
Buildings play a central role in all of lives — from the offices where we work, to the schools our kids attend to our homes where we live and relax. Products and materials made possible by chemistry are used in virtually every facet of building construction and maintenance, from the rooftop to the floor, as well as insulation, windows, countertops, plumbing and more. Innovative chemistry solutions can help protect the health, safety, and welfare of building occupants while also addressing environmental and sustainability challenges. Chemistry in buildings can help enhance energy efficiency, reduce embodied carbon, and increase building resiliency. Get more on chemistry used in building and construction at BuildingWithChemistry.org.
$14B
Chemistry products directly purchased by computer and electronics manufacturers in 2020.
Cutting-Edge, Innovative Technology
Products of chemistry lead to cutting-edge technology advancements that spur innovation in the electronic products we use every day, from televisions, cellphones and computers, to appliances like dishwashers, refrigerators and much more. A range of chemistries like flame retardants, silicones, plastics, and phthalates are used in manufacturing many electronic products, providing a variety of benefits that help make electronics strong, durable, safe, and lightweight.
Products Aren't Possible Without the People
The business of chemistry supports a vast supply chain and contributes to economic activity in communities where our facilities are located and across the country. The products of chemistry would not be possible without the dedicated people working in the chemical industry. Here at ACC, we understand the importance of promoting a pipeline of diverse talent within the chemical industry.
537K
Skilled, good-paying American jobs are provided by the business of chemistry
Along with Chemours, the American Institute of Chemical Engineers and The HBCU Week Foundation, ACC is proud to be a Founding Partner of the Future of STEM Scholars Initiative (FOSSI). FOSSI is national, industry-wide program providing scholarships and professional development for students majoring in science, technology, engineering and math (STEM) at Historically Black Colleges and Universities (HBCUs). FOSSI creates pathways for more underrepresented groups through scholarships, leadership training, mentoring, and internship opportunities. With the support of more than 40 ACC members and affiliated stakeholders, FOSSI provided 151 $40,000 scholarships in 2021.
FOSSI aims to make a significant impact on the future chemical industry workforce. The application to become a 2022 FOSSI scholar is open now. We encourage any students who are interested in STEM to learn more about FOSSI, and consider joining ACC and our industry to help make our world a better place.
Related Content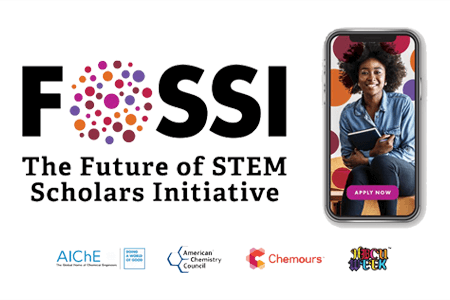 Initiative provides $40,000 scholarships to students studying STEM at HBCUs