Read time: 3 minutes
Blog Post
ENERGY: ACC Responds to DOE RFI on Reducing GHGs in the Manufacturing Sector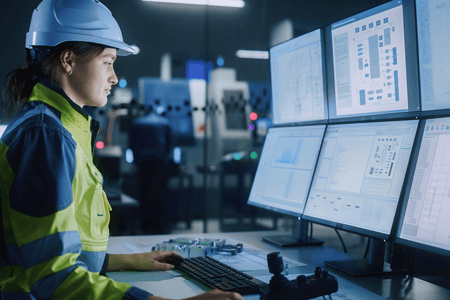 In January, the U.S. Department of Energy (DOE) asked for input on "how America's manufacturing sector can reduce emissions while making technologies that will power the clean economy and increase competitiveness on the global stage." ACC is leaning in here, and we responded to DOE's Request for Information (RFI).
ACC members are taking action to reduce the industrial greenhouse gas (GHG) intensity of their supply chains, operations, and products. Many ACC members have set emission reduction targets and goals and are implementing strategies to make meaningful reductions. From 2017 to 2020, ACC's reporting members have reduced their GHG intensity by approximately 10%.
American chemistry has a critical role in helping to drive down our nation's emissions. Our companies are providing essential inputs for energy-saving and renewable solutions, from solar panels and wind turbines to electric and fuel-efficient vehicles, high-performance building materials, advanced batteries and more.
Elements of an Effective Strategy
A comprehensive strategy to continue to reduce emissions across the industry should adopt a lifecycle approach, including upstream fuel and feedstock emissions, manufacturing process emissions, energy emissions from fuel and steam, energy emissions from electricity, avoided carbon during the use phase, and end-of-life or recycling phases. Each approach raises novel technology and logistical challenges.
Once technologies have been demonstrated for a particular application or industrial segment, it can still often stake decades to translate and validate that technology at commercial scale and deploy it across industry. Success will require expanded use of existing strategies as well as innovative new strategies.
An effective carbon reduction research agenda for the industrial sector will need to support a range of solutions reflecting the diversity of the chemical sector. These include:
Renewable and low-carbon electricity, fuels, and feedstocks;
Circular feedstocks (e.g., chemical recycling);
Process electrification, combined heat and power (CHP) and other energy efficiency innovations;
Carbon capture, utilization, and storage (CCUS); and
Innovative new chemistries and materials to enable and optimize performance.
In our response to DOE, we highlighted several cross-cutting chemical industry priorities and provided specific recommendations for future action.
Collaborative Efforts
ACC members are working with DOE, the Biden administration, and Congress to support implementation of the Infrastructure Investment and Jobs Act (IIJA) and other research and funding authority. We're joining and supporting industry engagement through DOE's effort and others. And we're discussing ways to optimize federal and private investment in the critical research, development, and early deployment activities necessary to bring these technologies to at-scale, economically viable commercialization.