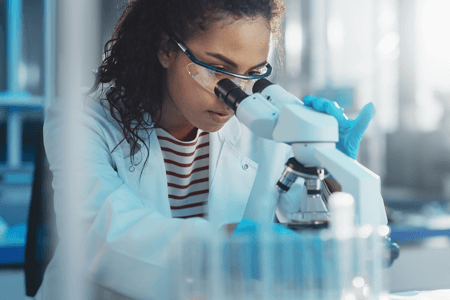 Today, we celebrate National STEM Day, an annual recognition of the contributions of science, technology, engineering, and mathematics (STEM) to the world. As a fundamental branch of science, chemistry plays a pivotal role within STEM, driving innovation, solving real-world problems, and contributing to the betterment of society.
National STEM Day serves as an opportunity to inspire and motivate students to pursue a STEM education and STEM careers, sparking curiosity and cultivating their passion for learning and innovation. As leaders in science and technology, chemical manufacturers provide hundreds of thousands of STEM jobs in the U.S. In fact, according to the 2023 Guide to the Business of Chemistry, the chemical industry employs more than half a million workers, many in STEM fields, with an average annual pay of $92,000. A STEM education equips students with essential skills and prepares them for challenges they may face in an increasingly technological world.
National STEM Day also helps encourage individuals from all backgrounds to pursue STEM degrees and careers. According to the National Center for Science and Engineering Statistics' (NCSES) 2023 diversity and STEM report, the STEM workforce includes 12.3 million women (35%), 8.3 million members of underrepresented minority groups (24%) and 1 million people with disabilities (3%). These statistics underscore that for our country to compete globally, it is crucial that there is an increase in diversity of thought, experiences, and backgrounds in the STEM workforce.
600+
scholarships funded through 2025.
ACC is a proud champion of STEM, supporting organizations like the Chemical Educational Foundation (CEF), which works to inspire students, educators, and communities to engage with chemistry through educational programs and initiatives, and as a Founding Partner of the Future of STEM Scholarships Initiative (FOSSI), which provides $40,000 scholarships for students pursuing preferred STEM degrees at Historically Black Colleges & Universities.
In a world that is experiencing rapid change, National STEM Day reminds us of how critical it is to invest in the next generation of innovators. Through programs like CEF and FOSSI, ACC is committed to helping create a pipeline of future chemists, researchers, and professionals who will help to further advancements in our industry.
National STEM Day is not just a celebration that creates awareness but also cultivates a love of STEM fields among young minds. Let's take this opportunity to empower the next generation to dream big, explore and help solve some of the future's most challenging problems. The possibilities that a STEM education offers are endless, and the chemical industry welcomes the opportunity to continue to support this important day.