For the chemical manufacturing industry, working to build a more sustainable future can involve enhancing manufacturing processes, including minimizing environmental impacts while conserving energy and natural resources like water.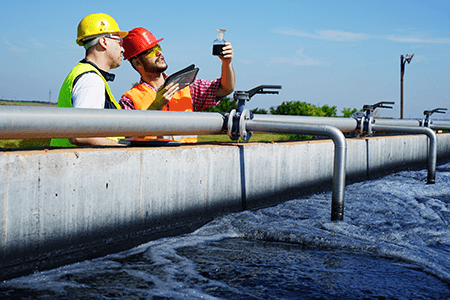 Ecolab develops water, hygiene and infection prevention solutions and services that protect people and the resources vital to life. The company believes in the importance of water in protecting the environment, human health and economic development. Ecolab is a founding partner of the Alliance for Water Stewardship's (AWS) International Water Stewardship Standard and a founding member of the Water Resilience Coalition, a CEO-led movement to address the global water crisis and an initiative of the United Nations Global Compact.
Water is essential to Ecolab's operations, products, and services, and the company is working to achieve a net positive water impact by 2050 and get halfway there by 2030. Through its stewardship efforts, Ecolab identifies and supports opportunities in its own operations and those of its customers to reduce freshwater use and use water resources in ways that are socially and culturally equitable, economically beneficial and environmentally sustainable.
Enhancing sustainability at Garyville, Louisiana, facility
Ecolab's manufacturing facility in Garyville, Louisiana, is a prime example of Ecolab's water stewardship efforts. Garyville is a reaction plant that produces water treatment chemistry and polymers. Located in the Mississippi River Watershed, the largest watershed in North America and integral to the economic and social health of the community, the facility's process water is pulled directly from the Mississippi River and pre-treated on site.
The watershed faces a variety of risks, including:
Risks to biodiversity
Natural disasters
Accelerating impacts of climate change
Water pollution
To contribute to the health of this water-stressed watershed, the Garyville plant adopted a three-pathway strategy with a net-positive water approach:
Increase water-use efficiency on site using Ecolab solutions, such as reusing backwash water at the start of the manufacturing process, which reduced the plant's intake of river water by 85,000 gallons a day.
Understand the shared water challenges in the basin and address them with nature-based solutions, including a project to restore and enhance 10,000 wetland acres in partnership with The Nature Conservancy.
Implement the principles of the AWS standard, such as sustainable water balance, good water quality status and important water related areas (IWRA), balancing relevancy and risk to the site.
The plant received AWS certification in 2019. That same year, it achieved a total water reduction of 42 million gallons, equivalent to $472,000 in risk-adjusted cost savings.
Water stewardship progress at City of Industry, California, facility
Ecolab is also working to enhance water stewardship at its manufacturing facility in City of Industry (COI), California, a blend plant that primarily produces industrial cleaning and sanitizing chemistry. Located in Southern California, the COI plant relies on water from the Rowland Water District, which sources water from northern California and the Colorado River.
The team at Ecolab's COI plant assessed the facility for opportunities to reduce water use across operations to meet the team's objective to reduce potable water use per ton of product by 10 percent by 2020 from a 2016 baseline. Water reduction opportunities identified included optimization of washout processes and matrices, implementation of behavioral changes through findings of washout studies, leak detection and repair and the launch of a formal sustainability sector team to identify and prioritize environmental projects.
The COI plant has completed the following projects to help improve the facility's water balance and reduce overall water use:
Optimization of washout processes, scheduling and behavior, resulting in approximately 4.3 million gallons of water saved every year.
Held a Kaizen event, or brainstorming session focused on a single challenge, to address leak detection and repairs, which resulted in 6,500 gallons of annual water savings.
Launched a sustainability sector team focused on creating sustainability key performance indicators (KPIs) and identification and prioritization of sustainability projects
Funded a nature-based solution called the Colorado River Indian Tribe (CRIT) Project, a conservation effort to help shore up Lake Mead.
The COI plant received its initial AWS certification in 2016 and was re-certified to AWS version 2.0 in 2020. Its water stewardship efforts are ongoing, and Ecolab continues to collaborate with other water users in the basin to address shared challenges.