A deadly strain of fungus continues to spread at an alarming rate in U.S. healthcare facilities especially in New York and New Jersey with cases in both states pacing to set new records in 2023.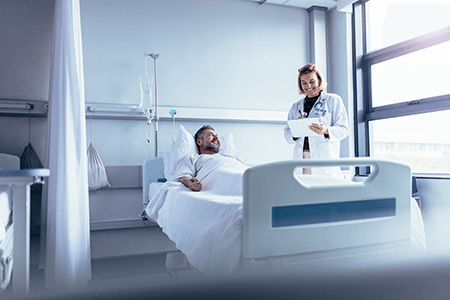 The CDC issued a warning that the fungus, a type of yeast called Candida auris (C. auris) should be considered an urgent threat. Infections have been recorded in 28 states and the District of Columbia with a tripling of the number of cases in 2021. Per CDC data, it spread from just four states reporting cases as of 2016 to more than half the states in the country reporting cases by Dec. 31, 2022.
The CDC's warning comes as the Mississippi Department of Health is fighting a growing outbreak of the fungus. Since November, at least 12 people have been infected with C. auris with four "potentially associated deaths," the state's epidemiologist Dr. Paul Byers, told NBC News.
Fortunately, antimicrobial disinfectants can serve as effective first lines of defense in this battle against C. auris and other causes of Healthcare-Associated Infections (HAIs).
Currently, the U.S. Environmental Protection Agency (EPA) has a list of 37 products that have been approved for use to disinfect surfaces against the emerging multidrug-resistant fungus.
Disinfectants and sterilizers help kill bacteria and viruses and are essential to keeping patient, operating, and emergency rooms free of dangerous germs, including by removing bacterial biofilms from contaminated surfaces and equipment.
Prevention in the fight to combat is key, as CDC has warned that the fungus is resistant to several antifungal medications. It can cause serious illness and death among people who are already sick and using medical devices like ventilators or intravenous therapy at health care facilities or intensive care units. While it's not a threat to healthy people, but about one-third of people who become sick with C. auris die.
While there are risks of C. auris outbreaks in healthcare facilities, there are many ways these healthcare facilities can work to prevent its spread. Safe practices include regular hand washing and using hospital-grade disinfectants to help prevent spread and outbreak. Meticulous cleaning and disinfection of both patient rooms and mobile equipment are necessary to reduce the risk of transmission.
C. auris can persist on surfaces in healthcare environments including patient rooms on high touch surfaces, such as bedside tables and bed rails, and locations further away from the patient, such as windowsills. According to the CDC, it has also been identified on mobile equipment, such as glucometers, temperature probes, blood pressure cuffs, ultrasound machines, nursing carts, and crash carts.
With the proper use and application of antimicrobial disinfectants, healthcare facilities have a far better chance of reducing the growth and spread of C. auris and other infections, helping to keep everyone, from doctors and nurses to patients and families safe.
The Center for Biocide Chemistries is comprised of more than 50 companies that manufacture and/or formulate biocide products (also known as antimicrobials or antimicrobial pesticides). Our members work every day to develop products that can help lessen the threat of germs to our healthcare system.
To learn more about how disinfectants and other types of antimicrobial products contribute to improved human health and environmental sustainability, visit our website.