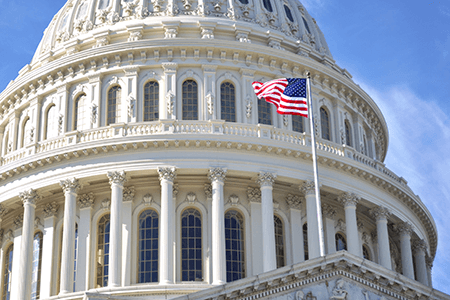 On Wednesday, the Senate Environment and Public Works Committee hosted an important discussion on strategies to reduce greenhouse gas emissions in the industrial sector. The hearing, "Opportunities in Industrial Decarbonization: Delivery Benefits for the Economy and the Climate," addressed some of the technologies, policies, and actions necessary to achieve significant progress while supporting U.S. competitiveness and innovation.
Much of the focus was on hydrogen technologies – an area where momentum is growing and the business of chemistry is "leaning in." Just last month, the U.S. Department of Energy (DOE) announced "$7 billion to launch seven Regional Clean Hydrogen Hubs (H2Hubs) and accelerate the commercial-scale deployment of low-cost, clean hydrogen," funded by the Bipartisan Infrastructure Law. A number of ACC member companies are participating in one or more of these hubs. Carbon capture and storage (CCUS) and advanced nuclear also got airtime at the hearing.
Opportunities & Potential Obstacles Ahead
As Chairman Carper wisely noted, "there are real challenges when it comes to decarbonizing the industrial sector. For example, because of the diverse industrial processes we use to make a variety of goods and materials, there isn't a simple one-size-fits-all approach. Instead, we must deploy a variety of different technologies and process changes."
Ranking Member Shelly Moore Capito (R-W.Va.) pointed out that permitting challenges and new regulations could block or delay key projects. She cited"regulations such as the Clean Power Plan 2.0 that would undermine reliability and drive up the cost of power for manufacturing with its unachievable short-term targets." We agree! EPA's proposal is a prime example of regulatory overreach that could harm energy reliability and affordability – making it more difficult for U.S. manufacturers to compete and innovate. House Environment, Manufacturing, & Critical Minerals Subcommittee members made a strong case for these concerns at a hearing earlier this week.
Dr. Abigail Regitsky of Breakthrough Energy discussed emerging and potentially transformative technologies as well as the value of existing methods that can deliver immediate results: "At the top of the list is energy efficiency. In any sector, that's always your go to solution. Any time you're able to be more energy-efficient, you're saving costs. It's win-win."
Improving Performance
ACC members are taking action to reduce the industrial greenhouse gas intensity of their supply chains, operations, and products. Through Responsible Care®, the chemical industry's environmental, health, safety, and security performance initiative, we track member company performance on a range of EHS metrics, including GHG intensity. Even as demand for chemistry products has increased, ACC members have reduced the GHG intensity of their operations by more than 12 percent since 2017.
Collaboration Is Key
We're working with DOE, the Biden administration, and Congress to support timely and efficient implementation of the Inflation Reduction Act (IRA) and the Bipartisan Infrastructure Law (BIL), which provide research and funding authority for a variety of projects. We're discussing ways to optimize federal and private investment in the critical RD&D activities necessary to bring lower-emissions technologies to at-scale, economically viable commercialization. In our responses to DOE's Requests for Information, we've highlighted cross-cutting chemical industry priorities and offered recommendations for future action.
A few things to keep in mind in any discussion of this topic:
Chemistry and plastics play an essential role in helping society reduce emissions -- through exploring and developing technologies like hydrogen, CCUS, and advanced nuclear and providing "inputs" for applications such as solar and wind power, electric vehicles (EVs), high-performance building materials, advanced batteries and more.
Chemical products and processes are diverse, and the industry operates in global markets where it faces intense competition. There is no 'one size fits all' solution.
Meaningful emissions reduction is supported by a portfolio of approaches. Policies should encourage the development and use of energy sources, infrastructure, and manufacturing technologies of all kinds.
Significantly reducing emissions will require rapid infrastructure development. As part of this effort, our nation must modernize the permitting process.
Proposals need to spur innovation while maintaining U.S. competitiveness. Effective coordination across agencies and programs is critical.