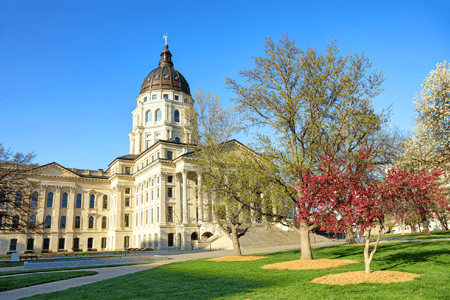 WASHINGTON, DC (April 10, 2023) — Kansas Gov. Laura Kelly (D) signed into law bipartisan legislation establishing that advanced recycling operations are properly regulated as manufacturing facilities. These innovative recycling operations enable hard-to-recycle plastics such as agricultural sheeting to be remade into valuable new plastics.
The American Chemistry Council (ACC) is pleased to learn of legislature's strong support of SB 114 , making Kansas the 23rd state in the country to adopt similar measures.
"This bill clears the path for Kansas to be a leader in the circular economy. In addition to boosting tax revenue from business investments, it will bring good-paying green-collar jobs to our residents and reduce plastic waste from ending up in landfills," said Sen. Renee Erickson, Assistant Majority Leader.
The potential economic impact of advanced recycling and recovery in Kansas is considerable: an additional $144 million in activity could support as many as 550 jobs in local communities.
Advanced recycling technologies are transforming used, often hard-to-recycle plastics into new products, reducing reliance on natural resources for new plastic production compared to conventional methods. This manufacturing process extracts value from used plastics by converting them into their original building blocks for use in new plastics and chemical products. Advanced recycling complements existing recycling processes and can help reduce the amount of waste sent to landfills while generating a diverse range of marketable products.
"This law supports investment in technology that will lead to greater circularity of plastic products. In our Lawrence, Kan., facility, we use circular plastics produced from advanced recycling to make drink cups for quick service restaurants," said Robert Flores, vice president of sustainability at Berry Global.
These technologies remain subject to all applicable federal, state and local environmental regulations, and SB 114 establishes a regulatory framework for advanced recycling and recovery facilities to encourage potential future investment in Kansas.
"Nearly half the country has adopted laws that recognize the multiple benefits of accelerating advanced recycling technologies. This is helping the United States become a global leader in developing a more circular economy for plastic," said Joshua Baca, vice president of plastics at ACC. "This is a win-win for the environment and economy."
ACC applauds Kansas' legislature and Gov. Kelly for passing this important legislation.