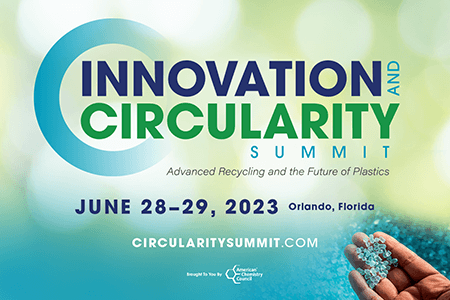 WASHINGTON, DC (May 10, 2023) — Significant strides are being made toward plastics circularity goals through novel partnerships and investments in new recycling technologies. Two expert panels will share the latest advances in financing and feedstocks at the Innovation & Circularity Summit, hosted by the American Chemistry Council, June 28-29 in Orlando.
Powering a Circular Economy: An Investor Roundtable
There's money at play helping advance and scale new recycling technologies. Don't leave that financing on the table. At the Summit, a roundtable session of financier innovators will expand on the role of investors in the plastics circular economy.
Expert panel:
Bridget Croke (moderator), Managing Partner at Closed Loop Partners
Ed Gillespie, Founder and CEO at Abundia Global Impact Group
Will Thorburn, SVP, Strategy and Investments at Cox Enterprises
Sorting Everything Out: Feedstocks, Collection, and Sortation
How can advanced recycling scale? Accessing high-volume feedstock for recycling can be a challenge. But these panelists are doing it, and in major cities. The roundtable discussion will demonstrate how economics, technologies and innovative partnerships are unlocking new opportunities.
Expert panel:
Jeremy Wallach (moderator), Partner at McKinsey & Co.
Bill Cooper, SVP, Corporate Strategy and Development at Cyclyx
Dr. Ganesh Nagarajan, Senior Director of Plastics at Waste Management
Mark Wilfalk, Director at City of Houston Solid Waste Department
Attendees will have the opportunity to engage with these and other leaders, learn about the latest developments impacting plastics recycling, and be part of the momentum shaping the future of plastics circularity.
The Summit is the only U.S. conference focused on accelerating a circular economy for plastics and the critical role of advanced recycling. Leaders from retailers, brands, plastics producers, converters, recyclers and others are coming together to map the future of plastics circularity. Attendees will be able to build networks across the value chain to accelerate circularity solutions and help their companies reach sustainability goals.
Stay tuned for future announcements as we continue to build our impressive lineup of experts .
To learn more and to register, visit the Summit's website.