Falling from elevated surfaces remains a leading cause of workplace fatalities for construction employees. According to data from the Bureau of Labor Statistics, about 35 percent of fatalities recorded in 2020 were related to falls. In an effort to raise awareness of potential fall hazards and preventative measures, the U.S. Department of Labor's Occupational Safety and Health Administration (OSHA) is hosting its annual National Safety Stand-Down to Prevent Falls in Construction week, which takes place May 2-6.
The American Chemistry Council's (ACC) Center for the Polyurethanes Industry (CPI), Diisocyanates (DII) Panel, and Aliphatic Diisocyanates (ADI) Panel have a long-standing relationship with OSHA through the establishment of the ACC-OSHA Alliance. Safety is a top priority for ACC and OSHA, and the Alliance works to foster safer and more healthful American workplaces.
The ACC-OSHA Alliance provides employers, occupational physicians, stakeholders and others within the polyurethanes value chain with information, resources, and training to help protect the health and safety of workers handling diisocyanates. The polyurethane value chain is broad and encompasses multiple sectors including the construction industry, from roofing to insulation. Of course, a strong safety culture is important to all ACC members.
ACC is supporting OSHA's National Safety Stand-Down to Prevent Falls in Construction to raise awareness among both employers and workers about the importance of recognizing and preventing such job-related hazards at worksites. We encourage all of our member companies to join our efforts to enhance workplace safety.
National Safety Stand-Down to Prevent Falls in Construction Week
National Safety Stand-Down to Prevent Falls in Construction week primarily focuses on employers whose workers might encounter fall hazards. This educational week is a reminder for employers to review their respective workplace safety fall protection guidelines; available on OSHA's website are standards geared for construction employers. Additionally, fall prevention videos can serve as great planning tools.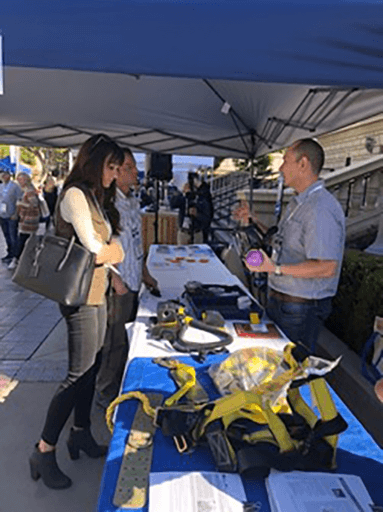 This is also a perfect time to implement workplace events. Two years ago, prior to the Covid pandemic, the ACC-OSHA Alliance hosted a booth at the Spray Polyurethane Foam Alliance (SPFA) SPRAYFOAM 2020 event in Pasadena, Calif. We provided safety information on fall protection and respiratory protection requirements — important to the spray foam industry. The booth, staffed by OSHA and Cal/OSHA, provided information to over 80 attendees about different regulatory requirements and compliance information. Through an open dialogue, experts were able to communicate the importance of personal protective equipment and staying safe on the job.
How Can Your Company Participate in National Safety Stand-Down Week?
OSHA has teamed up with the National Institute for Occupational Safety and Health (NIOSH), the National Occupational Research Agenda, and others to promote Safety Stand-Downs. These Safety Stand-Downs aren't limited to just falls. Employers across the construction industry are encouraged to take time during this week to discuss with their employees general workplace safety and how to avoid potential job hazards.
Safety Stand-Downs can come in different forms, from toolbox talks and safety equipment inspections to developing rescue plans and discussing job-specific hazards. These are voluntary, productive communication opportunities for employers and employees to take a break from work and share knowledge designed to help enhance employee well-being. OSHA has helpful resources and tips on how to prepare for a Safety Stand-Down.
ACC Members Committed to Worker Safety
In addition, all ACC members are required to participate in Responsible Care®, the chemical industry's world-class environmental, health, safety and security performance initiative, as a condition of ACC membership. Through Responsible Care®, ACC member companies annually report their progress on a variety of process safety-related performance measures, which ACC makes publicly available online. Companies that participate in Responsible Care® have employee safety records nearly five times better than the U.S. manufacturing sector and almost three times better than the U.S. business of chemistry overall.
Follow along on Twitter (@AmChemistry), where throughout the week, ACC will be sharing tips and resources on how to best protect workers from fall hazards. Also, make sure to share your stand-down story on social media with the hashtag #StandDown4Safety.