Center for the Polyurethanes Industry (CPI) - American Chemistry Council
2023 Polyurethanes Technical Conference
September 25-27, 2023
Marriott Rivercenter
San Antonio, TX

The Center for the Polyurethanes Industry's annual Polyurethanes Technical Conference, the longest-running polyurethanes conference in North America, offers the unique convergence of industry expertise, professional networking, and regulatory insight. Fostering both technical and professional development, the Polyurethanes Technical Conference is the premier destination to preview the polyurethanes technology of tomorrow and key information for today.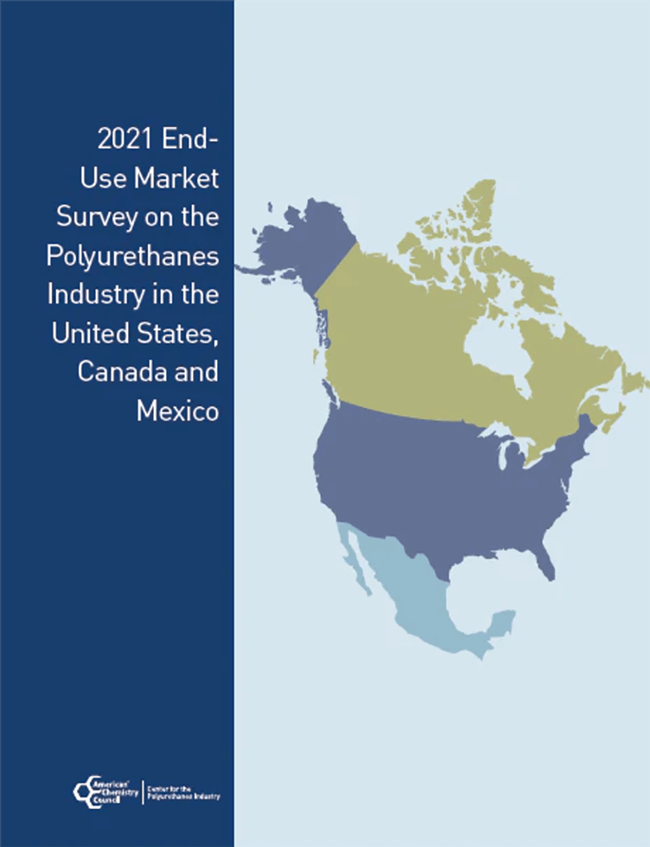 2021 End-Use Market Survey
This survey is available for purchase from the ACC store and provides a breakdown of raw material demand for polyurethane markets in the United States, Canada and Mexico over a three-year period. Interested in a custom report? Contact Laura Dickemann at 202-249-6525.
Learn more
Polyurethane Facts
Polyurethanes are very versatile , allowing them to solve challenging problems, be molded into unusual shapes and enhance industrial and consumer products.
Polyurethanes are formed by reacting a polyol with a diisocyanate or a polymeric isocyanate in the presence of suitable catalysts and additives.
Flexible polyurethane foam accounts for about 30 percent of the entire North American polyurethane market, and is used largely for bedding, furniture and in the automotive industry.
CPI members are leaders in product stewardship and CPI creates and shares safety and health resources for most aspects of manufacturing and processing of polyurethanes.
Sustainable Chemistry
Polyurethane is a highly versatile material that is durable and lightweight and can help reduce waste and consume less energy.
Learn more
Center for the Polyurethanes Industry Members
Membership in the Center for the Polyurethanes Industry (CPI) is open to all segments of the polyurethanes industry, including raw material producers, systems suppliers, processing machinery and equipment manufacturers, as well as users and distributors of polyurethane materials who manufacture flexible or rigid foams, coatings, adhesives, sealants or elastomers.
Contact us
Media Contact
Allison Edwards
Industry Group
Laura Dickemann