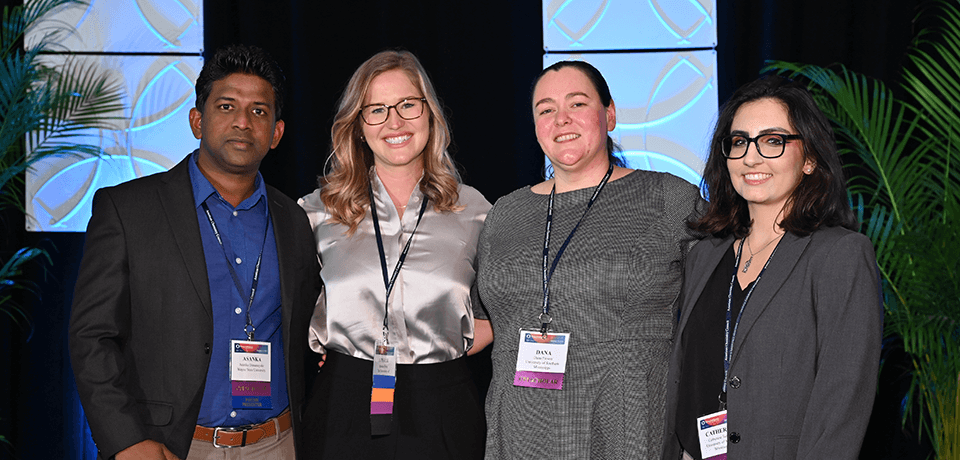 Applicants from across North America are encouraged to apply for the 2023 Travel Honoraria. Applications and poster or paper abstracts will be reviewed by a panel of industry experts, and a limited number of students will be selected to be the 2023 CPI Scholars. Each CPI Scholar will present research pertaining to polyurethane chemistry at the 2023 Polyurethanes Technical Conference on September 25- 27 2023 in San Antonio, TX. CPI's Polyurethanes Technical Conference, the longest-running polyurethanes conference in North America, will highlight the latest innovative polyurethanes technologies and discuss the most pressing issues facing the industry today.
Eligibility
All applicants must be pursuing their Masters or Ph.D. in a relevant scientific discipline including but not limited to chemistry and industrial hygiene. Applicants must register to attend the 2023 Polyurethanes Technical Conference in San Antonio, TX on September 25-27, 2023. Applications for the 2023 Travel Honoraria are due February 3, 2023.
Selection
A panel of industry experts and CPI staff will evaluate all eligible applications based on the impact on the polyurethanes industry and quality of the science and relevance in the industry.
Notification
CPI will notify all applicants on their application status by March 20, 2023.
Topics for Papers or Posters Can Include (but are not limited to):
Applications: Automotive, Appliances/Cold Chain, Construction, Furnishings, Recreation, Clothing, Medical, Packaging
Product Areas: Adhesives & Sealants, Coatings & Elastomers, Binders, Flexible Foam, Rigid Foam, Thermoplastic Polyurethanes, Agriculture, Composites
Chemistry: Chemistry & Fundamentals, Diisocyanates, Renewable Content Polyols, Biobased Materials, Recycled Content, Blowing Agents, Flame Retardants, Release Agents, Catalysts
Process: Processing Innovations, Equipment, Digitalization, 3-D Printing, Modeling
Issue Areas: Fire Safety, Environment, Health and Safety (EHS), Energy Efficiency, Sustainability/Recyclability, Design for Circularity, Transportation, Regulatory Challenges*
*Abstracts must be new content never presented before.
This opportunity provides students the forum to network and showcase their research with the leading companies in the PU industry and to learn about the latest breakthrough technologies across the industry.
Testimonials
I wanted to know what the current TPU market looks like, and I wanted to share my current research with others. The Polyurethanes Technical Conference is the first conference I've ever attended, and it was very important to me to be able to learn about the current demands of the industry for TPU products. It was very valuable to see how university research connects to the real world. Any student would benefit from attending the conference because it's an opportunity to broaden their horizons and learn some basics as well.
I'm planning to work in polyurethanes after graduation, so attending was very appealing to me. Having so many PU-related companies was the driving force for me to attend and learn more about the newest advancements as well as the opportunities and challenges of the industry. I really appreciated the opportunity to network with professionals, to get to know the new trends and advancements and to visit a new city. Other students should definitely apply. It's a great and different experience compared to other conferences students normally attend. It can provide them with a real perspective of the PU industry and ultimately guide their research toward a more applied and meaningful end.
I wanted to learn about the latest technologies and research in the field and to share our research on polyurea foams. The best part about attending this conference was experiencing how different this conference was to other conferences that I have attended. It was also nice to be able to get tips on different ways to test our foam from our moderator, who has been working with polyurethane foam for the past 40 years.
I was really glad to attend the conference because I wanted to get to know the attendees and their interests. Attending the conference also helped me to be more confident about my field of study in the future. When I accepted a travel honoraria, I thought that it would help reduce the burden of attending an overseas conferences. I was extremely happy and flattered to be accepted after applying for the travel honorarium. It was great to be able to see how research is actually applied in the real world and to see the direction the industry will be taking in the future. Other students should definitely apply. It was a wonderful opportunity.