Each August, the American Chemistry Council (ACC) promotes the Occupational Safety and Health Administration's (OSHA) Safe + Sound Week — a nationwide event emphasizing the importance of workplace health and safety and recognizing the successes of workplace safety programs. While we are excited to continue our tradition of highlighting the significance of workplace safety programs with OSHA during this week-long event, workplace health and safety is a year-round priority for ACC.
Employers and employees looking for information, guidance and resources on workplace safety should start with OSHA's official Safe + Sound Week website. Here, you will find state-by-state lists of Safe + Sound Week participants and workplace safety events, along with resources, tips, and tricks for developing workplace health and safety programs. OSHA encourages employers and employees to focus on health and safety programs in three areas: management leadership, worker participation, and finding and fixing hazards.
ACC's Commitment to Workplace Health and Safety Is Year Round.
Safe + Sound Week is an excellent opportunity for organizations all over the country to come together and work toward a common goal of protecting the health and safety of employees while at work. However, striving to maintain safe work environments is a 24/7/365 commitment. ACC works tirelessly year round to promote a safe workplace for those in the polyurethanes value chain.
In September 2020, ACC's Center for the Polyurethanes Industry (CPI) and the Diisocyanates (DII) and Aliphatic Diisocyanates (ADI) panels renewed their 2017 Alliance with OSHA for an additional five years. The primary objective of this ACC OSHA Alliance is to provide members, occupational physicians, stakeholders, and others within the polyurethanes value chain with the necessary information, guidance, and access to training resources to help protect the health and safety of workers handling diisocyanates on the jobsite.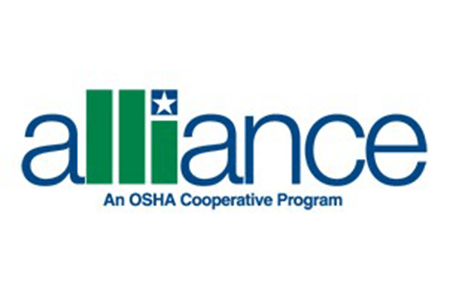 Through the ACC OSHA Alliance, we have developed important guidance documents focused on personal protective equipment (PPE) recommendations for automotive coating applications, and medical screening and surveillance guidance for workers and employers.
ACC, outside of the OSHA Alliance, has also developed a number of health and safety training resources for the polyurethane value chain. These include:
In addition, ACC members participate in Responsible Care®, the chemical industry's world-class environmental, health, safety and security performance initiative. Through Responsible Care®, companies annually report their progress on a variety of process safety-related performance measures, which ACC makes publicly available on its website. Companies that participate in Responsible Care® have employee safety records nearly five times better than the U.S. manufacturing sector, and almost three times better than the U.S. business of chemistry overall.
ACC cannot stress enough the importance of workplace health and safety. Implementing these programs helps save lives and prevent injury and illness and helps create an overall more positive work experience. Safe + Sound Week provides organizations with the necessary resources and tools to help enhance workplace health and safety programs and continue to provide a safe workplace!
Follow Along on Twitter!
Join us on Twitter for Safe + Sound Week, August 9-15, where we will be highlighting workplace health and safety programs designed by @OSHA_DOL and sharing information and ideas on how to help keep America's workers safe. Make sure to follow along on Twitter (@AmChemistry) and follow #SafeandSoundatWork!