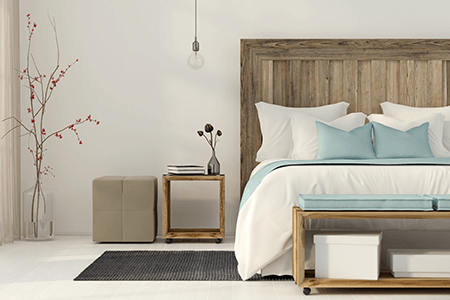 Diisocyanates are used to make many types of flexible foam used in mattresses, pillows, sofas, chairs and other furniture cushioning for the home or office. When it comes to bedding, numerous studies show that consistently getting a good night's sleep can help improve health and wellness. According to the National Sleep Foundation, 93% of people say a comfortable mattress is important to being able to get a quality sleep.1 Diisocyanates (DII) chemistry is an important part of the solution. Bedding and furniture manufacturers recognize that customers want products that improve sleep and comfort.
Comfort Through Chemistry
How does diisocyanates chemistry contribute to comfort? Foam producers use DII chemistry, namely toluene diisocyanate (TDI) or methylenediphenyl diisocyanate (MDI), and react it with another type of chemical called a polyol in the presence of other additives to create flexible polyurethane foam. DII chemistry allows the foam to have an almost endless variety of properties. It enables designers to develop a wide array of bedding and furniture with the best possible combination of durability, comfort, support and good looks.
Over 50 years ago, flexible polyurethane foam started to become popular as a cushioning material in upholstered furniture. Today, well over 1.5 billion lbs. of FPF are produced every year in the United States!2 Its popularity has grown well beyond furniture, into bedding and countless other products found in homes, vehicles, schools and businesses.
Get a Good Night's Sleep
In 2010, U.S. mattress producers shipped nearly 35 million mattresses.3 While innerspring mattresses are still the most common, full foam mattresses and hybrid mattresses combining coil springs with a layer of foam on top are also widely available. The foam provides added comfort and support to a coil spring mattress. Full polyurethane foam mattresses are popular for their comfort and ease of set-up. Adjustable beds, such as those found in hospitals, also benefit from the flexibility and resilience of polyurethane foam. Another type of polyurethane foam is memory foam, also called viscoelastic foam. It is also made by mixing a variety of TDI, MDI, polyols and other additives. Depending on its density, some memory foam softens in response to body heat, allowing it to mold to your body. Other memory foam is more pressure-sensitive, meaning it molds quickly to your body shape, but "remembers" to rapidly return its original shape once the pressure is removed. Hence the name memory foam.
In addition to bedding and pillows, memory foam is also used in other industries. For example, the automotive industry is using it for head restraints. Because of its noise reduction properties, it is also used in automotive interiors, auditorium seating and other uses. Also, some wheelchairs and high quality chairs used by the elderly or the infirm use memory foam since it can help relieve pressure points.
Sit Back and Relax
Dramatic advances in flexible and molded polyurethane foam technology made possible with DII chemistry are helping to continuously improve furnishing as needs and styles change. For example, with sophisticated home entertainment systems, more furniture choices offer extra soft cushioning and reclining capabilities that consumers want.
In response to a strong demand for stylish and durable outdoor furniture, specialized polyurethane foams have been developed that allow water to pass through to improve durability and performance. With office furniture, foams need to be both thinner and firmer than those used in sofas. Diisocyanate, polyol and additive makers work alongside foam producers to develop ways to reduce the amount of foam in products without sacrificing performance, while helping lower production costs. Also, foam technologies are improving so more renewable resource-based polyol can be included in the foam as well. With these advances, polyurethane foam remains durable and many furniture products come with a lifetime warranty.
Looking Ahead
Consumers in the United States spent over $106 billion on furniture and bedding in 2016.4 This is an important industry for the economy and one that will continue to benefit from DII chemistry. Looking ahead, DII chemistry will continue to play a vital role in enabling the furniture and bedding industry to help you rest easy.
1 Visit the National Sleep Foundation at www.sleepfoundation.org
2 http://www.pfa.org/
3 International Sleep Products Association per CPI 2016 End-Use Market Survey on the Polyurethanes Industry pg. 244.
4 CPI 2016 End-Use Market Survey on the Polyurethanes Industry pg. 238.