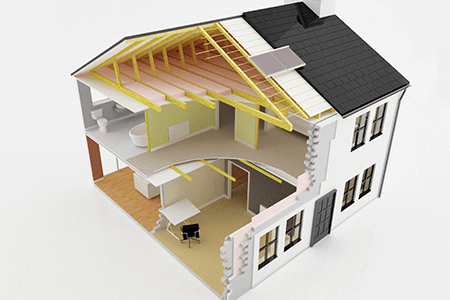 According to the U.S. Department of Energy (DOE), heating and cooling account for about 56 percent of the energy use in a typical U.S. home, making it the largest energy expense for most homes. With rising energy costs, there is growing interest in making homes and buildings more energy efficient. Methylenediphenyl diisocyanate (MDI) is used to make different kinds of foam insulation—rigid polyurethane, spray polyurethane foam and polyiso (PIR)—used in residential and commercial buildings.
Types of Foam Insulation
MDI is used to make many different kinds of foam insulation products, including:
Flexible-faced laminated panels and boardstock that are widely used for commercial roofing.
Metal-faced panels used for exterior cladding of commercial buildings.
Structural insulated panels (SIPs) used in floors, walls and roofs for residential and light commercial buildings.
Rigid slabstock and bunstock which is mainly used for commercial and industrial applications.
Spray polyurethane foam, which has a wide range of residential and commercial uses, including walls, ceilings and roofing systems.
One-component insulating foam, a sealant and adhesive for Do-It-Yourself (DIY) and professional use.
Advantages of Foam Insulation
Foam insulation is a popular choice because it can help to lower your energy bills. How? Simply stated, once the air in your home is heated or cooled, the foam insulation helps to effectively seal the gaps and close leaks. The insulation helps prevent outside air from getting in, and inside air from getting out. This creates a comfortable environment in your home, while also reducing your energy usage.
Foam insulation products are often used in walls, attics, floors and for roofing systems in both new construction and renovation projects. Not only are these products widely used for insulating and air sealing, some foams can also help reduce noise and moisture, helping prevent mold and mildew issues.
Spray polyurethane foam, which generally has a high R-rating, can be sprayed directly into gaps, cracks and other surfaces that may contribute to air infiltration resulting in heating or cooling loss. Because it is sprayed on-site, it has the ability to contour to different shapes before it hardens, allowing a high degree of air sealing performance for weatherization and insulation projects. » learn more about the benefits of spray polyurethane foam.
Many of these foam insulation products are used by professional builders, insulation contractors and architects who can also provide you with more information about their features and benefits. Visit the Homeowner section of www.spraypolyurethane.org for safety guidance and the role of a spray polyurethane foam contractor.
Do-It-Yourself (DIY) Weatherization Projects
One-component insulating foam sealant is often used for DIY projects. Also known as "foam-in-a-can," this product is ideal for filling gaps and cracks around your home, such as around doors and windows. These products are intended for small DIY air sealing projects and are widely available at retail home improvement stores. Be sure to follow the instructions on the label when using these products. This includes wearing safety glasses or goggles, gloves and full-coverage clothing to keep foam off your skin. To learn more about insulating foam sealant and additional safety guidance, visit the "Do-It-Yourself" section of www.spraypolyurethane.org.
As you can see, diisocyanates are important enablers for many of the insulation and air sealing products used to improve indoor comfort, while helping lower energy costs and consumption.