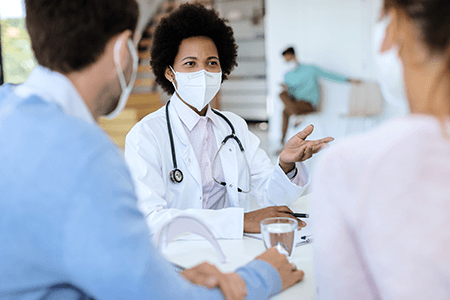 When it comes to health care, you rely on medical professionals to provide effective treatment, use state-of the-art equipment and to do so in safe, clean facilities. To meet those expectations, many health care providers and facilities rely on medical applications that use diisocyanates chemistry to make polyurethane materials, some of which help combat the Coronavirus (COVID-19) and other diseases.
Diisocyanates (aromatic and aliphatic) are a family of chemical building blocks that have been used for decades to make a wide variety of polyurethane products, such as foams, coatings, adhesives, sealants, elastomers and molded items. Polyurethanes are used by many medical device manufacturers (OEMs) to produce health care products valued for their safety, effectiveness and comfort. OEMs work with material suppliers to determine the suitability of those materials for the product being developed. OEMs also test their products for their intended uses, many of which are subject to strict regulatory approvals before the products can be made available to the public.
Protecting Patients and Medical Professionals
To improve safety for patients and medical professionals, many measures are taken by the health care industry such as protective gear worn by medical staff, equipment sterilization, patient monitoring and intensive cleaning of facilities. Medical-grade polyurethanes are used in many applications that provide comfort and protection. Some of these include:
Non-allergenic gloves and medical garments
Nose foam used in N95 masks
Hospital bedding and cushioning devices
Surgical drapes/divider curtains (create a barrier against infection and disease transmission)
Wound dressings
Wearable patches and medical devices
Medical packaging, and more
Hospitals and health care facilities implement rigorous disinfecting and cleaning routines to minimize health care-acquired infections and viruses. Materials and equipment must demonstrate an ability to withstand strong disinfectants used for sterilization. Excellent chemical resistance is among the many valued attributes of cross-linked polyurethanes. This helps products made with these polyurethanes stand up to disinfectants and sterilization procedures.
Because foot traffic is high and large equipment is often moved throughout a hospital, it is necessary for the facility to have tough and abrasion-resistant surfaces that can be easily cleaned. Therefore, highly durable polyurethane coatings and sealers are commonly used on hospital floors, walls and equipment.
Application Versatility
When it comes to medical application development, polyurethanes provide a tremendous range of properties that offer maximum versatility. Polyurethanes are compatible with many sterilization methods and are antithrombogenic, which is good for niche applications that entail blood contact.
For example, some advanced wound prevention and wound care dressings use polyurethanes for specialty films, foams and layers that comprise these products. Some benefits include:
Smooth and soft to the touch
Often compatible with gamma-sterilization
Reduces irritation on sensitive or delicate skin, hence improved patient comfort
Provides excellent retention and high absorption of fluids, which can aid in a patient's recovery
Allows wound dressings to be changed less frequently
Enables manufacturers to easily add antimicrobials and other healing agents
Polyurethane adhesives for medical applications also provide many benefits including:
Excellent breathability and low trauma removal to wound care products
A tight seal for sterilized medical packaging, such as test kits, swabs, tubing and other medical equipment
By providing form-fitting cushioning, polyurethane packaging foam (PPF) is used to package and transport fragile items such as electronic and diagnostic equipment. Polyurethane dispersions (PUDs) and binders enable the development of thin, breathable foams and materials for skin application that absorb fluids. They offer outstanding elasticity, compression and shock absorbance for applications designed to accelerate healing such as:
Wearable patches and medical devices (e.g., continuous glucose monitors, heart monitors and other sensors/transponders)
Non-woven materials designed to absorb body fluids (e.g., wound irrigation/hydro-therapy)
Orthopedics, rehabilitation devices, protective equipment, and others
Fostering Medical Innovation
Not only are polyurethanes essential for many medical applications in use today, they also play a vital role as medical OEMs develop and improve life-saving devices. Because some medical devices are subjected to repeated bending and rubbing against other materials, they have the potential to weaken over time. Polyurethanes provide flexibility, tear and abrasion resistance that can help improve medical device durability.
As an example, flexible medical tubing (e.g., catheter tubing, feeding tubes) made from thermoplastic polyurethane (TPU) is available that is resistant to lipids, cleaning agents and bacteria. The tubing also offers high clarity to enhance the medical staff's ability to see treatment progress and make adjustments. Another innovation is the use of soft, yet durable polyurethanes for elastomeric medical applications (e.g., indwelling catheters, vascular access). Many patients find these devices to be more comfortable than those made with other soft materials.
With the advent of surgical implants, biomedical polyurethanes are helping address acute and chronic health challenges. Manufacturers in the cardiovascular and other biomedical fields rely on polyurethanes to develop devices such as:
Artificial hearts
Pacemaker lead insulation
Intra-aortic balloon pumps, and others
In the area of orthotics and prosthetics, exciting advancements are being made. For example, research is underway on the future of prosthetic hands using polyurethane aerogels, also known as shape memory polymers. When bent, folded or twisted, they can return to their original shape. Finally, polyurethanes are used for many injection-molded medical parts and devices.
Improving Care and Helping Save Lives
Whether it's a foam pillow or mattress that helps you rest following a medical procedure, an N95 mask used to prevent the spread of an infectious disease, or a life-saving artificial heart transplant, polyurethanes, made possible by diisocyanates chemistry, are making significant contributions to the medical industry and healthcare. The U.S. Food and Drug Administration (FDA) released a safety study on the use of polyurethanes in medical devices that stated "no systemic manifestations were reported in the literature, which suggests that such manifestations are either very rare or not a problem with PUR (polyurethane) devices."[1]
Because chemistry is so fundamental to our nation's economy and to the continued operation of the medical sector and others, the U.S. Department of Homeland Security has recognized the chemical industry as an essential sector in combating COVID-19.[2] The chemical industry is proud to be part of the solution.
Diisocyanate-based polyurethanes will continue to be essential for the production of medical applications that improve health care and help save lives.