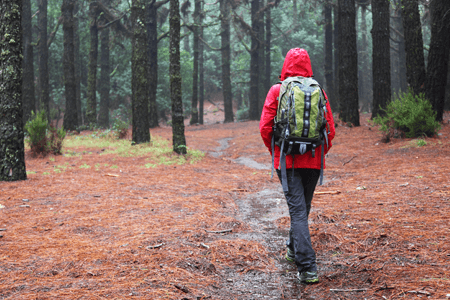 When shopping for new clothes, it's exciting to find stylish jeans that fit just right, or workout apparel that is breathable and comfortable, or a durable jacket to stay warm and dry in extreme weather. These garments, along with many more applications, rely on innovative textiles to provide the performance and appearance that you've come to expect.
Because of their unique properties, aliphatic diisocyanates (ADIs) are used in textile coatings across a wide variety of applications such as fashion wear, footwear, bags, furniture, automotive interiors, sports apparel, hats, and accessories. They are also widely used for leather-like materials, such as imitation suede. ADIs are also important for specialized uses including tents, firefighter clothing, fire hoses, laptop and tablet covers, and much more. Even goalkeeper or safety gloves that require non-slip properties benefit from ADI chemistry!
Bringing Versatility to Textiles
So what role do ADIs play in textile coatings? ADIs are an essential ingredient in the formulation of polyurethane (PU) coatings, such as PU dispersions (PUDs) that can be knife, roll coated, dipped or spray applied on fabric, as well as thermoplastic polyurethanes (TPUs). In some processes, PU coatings are applied directly to the thread of the fabric. The main benefit is that ADIs provide PU-coated textiles with increased versatility. This helps manufacturers create new products in the ever-changing, fast-paced fashion world that deliver the appearance, hand feel, durability, and other properties that customers are seeking.
ADIs provide PU-coated textiles with many additional benefits including:
Excellent water and wind resistance (often used in weather-resistant apparel)
Water-vapor-permeable properties (excellent for athletic apparel and footwear)
Protection from ultraviolet (UV) rays (beneficial for outdoor fabrics)
Longer service life (resistance to washing and dry cleaning)
Anti-fraying properties
Abrasion and stain resistance (well suited for bags, computer cases, footwear, automotive upholstery, etc.)
Breathability, comfort, and a variety of finishes
You can see how PU coatings made with ADIs transform many of the fabrics we rely upon. When applied in thin layers, they enhance fabric functionality in apparel such as active wear and denim jeans. They provide a pleasing feel, while helping protect vibrant colors. In thicker layers, PU coatings are key to high-performance synthetic materials used widely in furniture, auto upholstery, garments, shoe uppers, and accessories.
A Focus on Sustainability
The chemical and textile industries share a long history of innovation, which drives not only advancements in technology and efficiency, but also improvements in environmental performance. Both industries are committed to sustainability and safety. As part of that commitment, textile manufacturers not only select materials based on consumer and employee safety requirements, but increasingly make environmental considerations a critical part of their decision-making process. Important standards in the textile industry include Standard 100 OEKO-TEX®, an independent product label for a variety of textiles tested for specific substances, and the bluesign® system that unites the entire textile supply chain to reduce its impact on people and the environment.
In helping meet these and other standards, PU coatings producers continue to make advancements in technology and deliver innovative solutions. For example, waterborne PU technology for textile coatings is now available. Innovations are also underway for biomass, CO2-based, and hybrid PU materials that don't sacrifice performance. Sustainability across the ADI industry also includes optimizing manufacturing processes, reducing the environmental impact of transportation, and increasing the use of renewable feedstocks.
Sewn into the U.S. Economy
585.2
Thousand workers are employed by the U.S. textile sector's supply chain.
When you look at the economy, fashion is big business worldwide. The U.S. apparel market is the largest in the world. Statistica per footnote 1 as follows: The revenue of the U.S. apparel market in 2021 was approx. $318 billion.1 As we've seen, textiles using PU coatings made with ADI chemistry are an essential part of the apparel industry, and thereby make an important contribution to this major economic driver. If we just consider the value of U.S. man-made fiber, filament, textile, and apparel shipments in 2021, the value of U.S. man-made fiber, filament, textile, and apparel shipments totaled an estimated $65.2 billion.2
On average, households spend $1,700 per year (in nominal terms) on apparel, footwear, and related products and services — 3.5 percent of their average annual expenditures.3 When you consider that PU-coated textiles are used in applications far beyond apparel and footwear, the economic significance of ADI chemistry becomes even more apparent.
So the next time you find that perfect outfit to wear, remember that ADI chemistry very likely helped make it fit, feel, and look better.