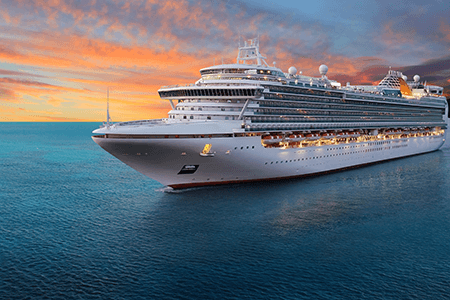 If you are among the thousands of tourists each year who enjoy vacationing on a cruise ship, you may have noticed how bright and shiny the ship's hull appears. Often, you will see vividly painted logos or sometimes a unique, colorful design identifying the ship. Did you know that aliphatic diisocyanates (ADIs) are often used as a key component in the production of paint and top coatings making that possible? Not only do polyurethane-based marine coatings improve a ship's appearance, they play an essential role in protecting the hull, deck and other surface areas from the harsh elements of the sea.
Importance of Marine Coatings
A wide variety of ships around the world rely on coatings technologies that use ADI chemistry as a key component. Polyurethane coatings are used on commercial and leisure craft, as well as heavy offshore structures such as oil rigs, tanker platforms, pipeline and storage facilities. Coatings made with ADI provide important benefits including:
Maximum color and gloss retention
Excellent weather resistance i.e., resistance to yellowing, chalking or degradation by sunlight
Outstanding water, solvent, oil and chemical resistance (helps prevent corrosion)
Excellent abrasion and impact resistance (the ship's hull flexes with stress; it is normal for the vessel to have contact with docks, or other structures and equipment used to access the vessel)
Superior application properties i.e., fast-drying, so a ship in dry-dock can be serviced more quickly
These coatings are generally spray-applied and workers are required to wear appropriate personal protective equipment during application to protect themselves from inhalation and other potential hazards. There are a variety of paint and coatings technologies used by the marine industry to meet customer requirements and government regulations.
"Shipping is global in nature with the result that even regional and local environmental regulations have an industry-wide effect."1 Increasingly stringent environmental regulation serves as a driver of innovation for marine coatings. For example, advancements are being made to develop coatings systems that help improve a ship's energy efficiency, lower fuel costs and speed up the drying process to reduce labor costs and ship downtime.
An Important Economic Driver
Although the building of new ships has been declining in recent years, the market for marine coatings has benefited from an increase in ship repair and maintenance. The ship building, maintenance and coatings industries employ thousands of workers around the globe and enable the transportation of essential products and services. Marine coatings manufacturers continue to focus their efforts on developing coatings that will decrease maintenance costs and increase vessel efficiency.1 It is estimated that in total, approximately 29.8 million lbs. of polyurethane coatings for marine use were produced in North America in 2018.2
Not only do aliphatic diisocyanates play an important role economically, they remain essential to ongoing development of specialized marine paints and coatings. So the next time you set sail, remember that ADI chemistry not only helps protect ships from the elements, it contributes to the aesthetic appeal of many magnificent cruise ships. Bon voyage.