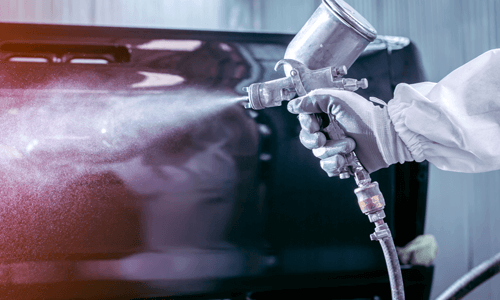 As most auto enthusiasts will attest, shiny paint on a newly washed car can brighten your day. What if your vehicle has been damaged or scratched? You expect it to return from the auto body shop looking as good as new. Aliphatic diisocyanates (ADIs) play an important role in both of these scenarios.
ADIs are a key component in the production of polyurethane paint and coatings applied by original equipment manufacturers (OEMs) during vehicle production and by auto refinishers during repair. Not only do polyurethane-based automotive coatings improve your vehicle's appearance, they play an essential role in protecting it from harsh weather conditions and can help prevent corrosion.
Benefits of Aliphatic Diisocyanates-Based Polyurethane Coatings
Many leading automotive companies worldwide depend on automotive coatings technologies that use ADI chemistry as a key component. Polyurethane coatings are used not only in cars, but in many other vehicles we depend upon such as buses, trucks, agricultural, construction and earth moving equipment. Other transportation uses include polyurethane coatings for aerospace, railways and marine. Coatings made with ADI provide important benefits for vehicles including:
Excellent weather resistance i.e., resistance to yellowing or paint degradation due to sunlight/ultraviolet (UV) rays
Exceptional color and gloss retention, even after a very long exposure time
Outstanding resistance to water, oil and chemicals, such as salt on the roads (helps prevent vehicle corrosion)
Excellent hardness and scratch resistance (contributes to stone-chip resistance required by car makers)
Superior application properties i.e., fast-drying, so a vehicle being repainted or repaired can be returned to the owner more quickly
Polyurethane-based automotive paint and coatings are generally spray-applied. Automotive production workers are required to wear appropriate personal protective equipment during application to protect themselves from inhalation and other potential hazards. In addition, significant efforts have been taken across the automotive refinishing/collision repair industry to increase training and awareness about safety, chemical handling and disposal practices.
Technology Advancements
ADI chemistry continues to help with advancements in polyurethane-based paint and coatings for the automotive industry. For example, "R&D development in the refinish market is centered on increasing productivity and speeding up the painting process so shop owners can get vehicles back on the road as quickly as possible."1 Leading automotive coatings producers are developing technologies that allow faster preparation and drying times. Some producers are developing systems that enable painters to make repairs to small scratches without clearcoating the entire vehicle panel, which can also save time. With stricter environmental regulations and industry efforts to improve environmental performance, there is also a significant focus on the development of coatings that minimize waste and reduce airborne emissions.
A Key Economic Segment
The automotive coatings industry employs thousands of workers around the globe. In 2014 in the United States, it is estimated that 129 million pounds of polyurethane coatings were used by the automotive industry. This is comprised of approximately 72 million pounds by OEMs and another 57 million pounds by the auto refinishing industry.2
Not only do coatings made with aliphatic diisocyanate chemistry make an important contribution to the economy, they make a positive difference to your vehicle.