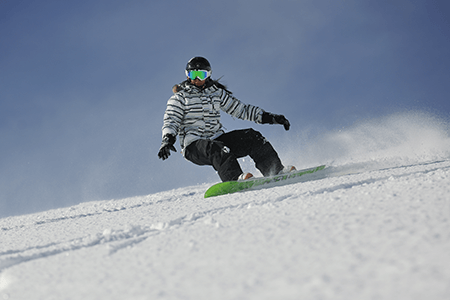 Whether you are racing down a ski slope, roller blading through a park, playing soccer on artificial turf or hitting a golf ball, there is a good chance that diisocyanates chemistry is making it possible. Diisocyanates (DII) are used to make many types of polyurethane systems and thermoplastic polyurethane (TPU) materials found in countless sports and leisure products that you and your family use each day.
How Does Diisocyanates Chemistry Help Make Sports and Leisure Equipment?
For many sports and leisure products, polyurethanes producers use a diisocyanate (primarily methylenediphenyl diisocyanate) and react it with another type of chemical called a "polyol" in the presence of other additives to create polyurethane systems and thermoplastic polyurethanes (TPU). These materials are used as key components in products that you enjoy for many sports and recreational activities.
Here are just a few examples of sports and leisure products that may use polyurethane systems or TPU in their production:
What Do These Products Have in Common?
This list of sports and leisure products could be much longer since polyurethane products, which rely on DII chemistry, offer product designers so many benefits. Product performance is a top priority for designers since many of these products may be used under extreme conditions. For example, when you are speeding down a ski slope, your skis and bindings need to stay strong. Product designers need materials they can count on. Polyurethane systems and TPUs help provide properties that are common to many of the sports and leisure products mentioned, such as:
Flexibility and elasticity
Toughness and durability
Scratch resistance
Weather resistance
Low-temperature impact strength
And for some uses, transparency
Surfaces Designed for Play
DII chemistry—specifically MDI used as a binder—also helps in the development of tracks, playgrounds and other sports surfaces. Sometimes recycled tire granules are used as part of the surface to lower the cost and volume of waste generated by the tire industry. MDI is an excellent material because it helps bind the surface together so it is tough and resilient.
The next time you kick a ball or watch a game on artificial turf, know that a polyurethane system may have been used to make that surface. Diisocyanates help deliver the properties needed in artificial turf so athletes worldwide can perform at their best. They want artificial fields that are:
Stable and predictable
Do not wear out easily or shrink
Retain their appearance
Offer some shock absorption
Maintain a strong turf even when wet
As you can see, polyurethane systems have the ability to be tailored to meet a wide array of design needs for recreation.
Let the Fun Begin
Just as there are endless possibilities when you think about all of the sports and leisure activities you can enjoy, there are endless possibilities when it comes to products that can be developed thanks to the versatility of DII chemistry. Let the fun begin.