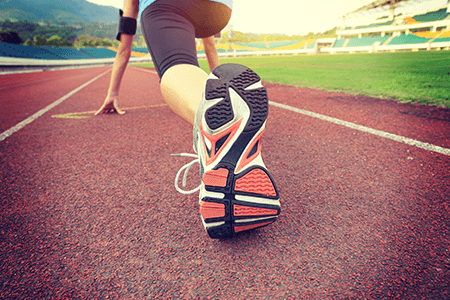 The next time you lace up some running shoes for a jog around the neighborhood or slip on your favorite shoes for work, it is a strong possibility they were made using polyurethanes (PU) based on diisocyanates chemistry. Diisocyanates are used to make many types of polyurethanes that are used in the design and production of countless styles of footwear for casual, sport and professional use.
How Does Diisocyanates Chemistry Help with Footwear Design?
Footwear manufacturers value the incredible versatility of PU for various parts of the shoe or boot design. To make polyurethanes for footwear, a diisocyanate, usually methylenediphenyl diisocyanate (MDI), is reacted with another type of chemical called a polyol in the presence of other additives. This DII chemistry is very versatile so it allows footwear designers many polyurethane choices that can be tailor-made. As a result, footwear designers have the freedom to create a wide array of shoes and boots that are tough, comfortable and fashionable. Total production of footwear in the United States, Canada and Mexico totaled 315.4 million pairs in 2010,1 making this is an important segment of our economy.
What Are the Main Uses of Polyurethanes in Footwear?
The primary use of polyurethanes in footwear is to attach the sole to the rest of the shoe. Polyurethanes adhesives are well suited for this use since they provide a very strong bond, that can make the shoes last longer. In addition, polyurethanes are often molded into various parts of the shoe or boot, such as the outsole (the part that touches the ground) and the midsole (the layer between the outsole and insole that provides shock absorption). They can also be used for foam inserts, air-bags and gels for extra midsole comfort and support. In addition, PU coatings and sealants are sometimes used to improve scratch resistance, color retention and durability.
For Work…
Whether you work on a construction site, in a factory or serve in the military, you rely on footwear that will help keep you safe and reduce fatigue. International standards have been set for safety shoes and boots that are very precise. In some work environments, a spark from static electricity could pose a hazard to workers. Therefore, polyurethanes are available for footwear designers that allow antistatic properties to be adjusted for specific conditions. By varying the polyurethane formulation, work boots and shoes can be designed that are lightweight, durable, oil and chemical resistant, water-proof, slip-resistant and able to keep feet warm or cool, depending on the environment. For example, fire fighters may wear wellington boots that use polyurethanes to give them the flexibility, anti-slip capabilities and insulation needed for the extreme conditions they face. As you can see, DII chemistry is critical in developing specialized polyurethanes that can help keep workers safer on the job.
…Or Play
Athletes cannot afford to slip when the game is on the line. High-tech athletic shoes often require extra grip and performance. Polyurethanes made with DII chemistry can be molded to make plates, cleats, soles and midsoles with the sports enthusiast in mind. Footwear designers use PU to help them develop outsoles that provide the hard-wearing performance and grip needed that various sports demand—even on wet surfaces. High quality midsoles provide a cushioning effect made possible with polyurethanes that can help reduce the risk of joint and muscle injury.

And when it comes to fashion, polyurethanes offer designers an endless variety of finishes and colors. In women's shoes, polyurethanes can be made as "skinned" foam with a smooth or leather-like surface. They are paintable so various finishes can be created in a wide variety of textures and colors. TPUs can be used to mold soles and heels, or for inserts used with the leather parts of the shoe. As footwear demand grows, DII chemistry will continue to play an important role in providing footwear companies with innovative polyurethanes materials that set the pace in footwear design.
1 2010 End-Use Market Survey of the Polyurethanes Industry, ACC Center for the Polyurethanes Industry, pg. 251.